If you were single around 2012 to 2013, then you're probably familiar with Tinder.
It is the dating app that made online dating socially acceptable, and most of us today are familiar with its swiping features. 
Swipe right on a potential hottie and if they swipe back, it could be a match made in heaven. 
Although, dating on Tinder isn't always sunshine and rainbows because the platform also has its own fair share of horror stories.
Having said that, it's still a great way to meet other people online, especially people that you wouldn't have had the opportunity to cross paths with.
Especially in our post-COVID world, dating apps like Tinder are helping us to (safely) keep the human connection alive despite being stuck at home. 
Are you jumping on dating apps for the first time and you want to find out is Tinder any good? 
We heard you loud and clear – here's our Tinder review!
Tinder review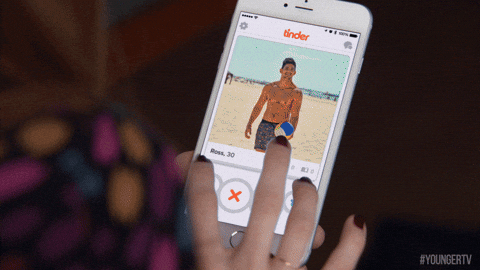 Before we get into it, let's first find out how you can create a Tinder profile. 
First, download the app for free and it only takes a few seconds to set up.
The signup process is incredibly simple too. You can either sign up with your mobile number or link your Facebook account. 
Don't worry, your contact list will not be notified! 
Then, you must fill in some basic information such as your location so that the app can do its magic and match you with potential dates in your vicinity. 
Whenever you refresh your location, your pool of candidates will automatically refresh too!
Head to your settings where you can manage settings such as if you are searching for men or women, your ideal location and your age range. 
Next, let's customise your profile.
You don't really need to spend much time on this as Tinder also doesn't make it a requirement to spice up your profile. 
If you're using your Facebook profile to sign up, you can allow the app to import some information from your account.
But if you want to get quality matches or make sure that every right swipe turns into a match, you need to fill in some basics on your profile such as including a few decent pictures, and perhaps the kind of relationship that you're looking for in your bio!
Recent Tinder updates allow photos and looping videos too!
After you set this all up, you can start swiping!
Is Tinder Good?
Like every dating app, dating on Tinder comes with its own set of pros and cons. 
And like most experiences, everyone has a different encounter when using the app. You might know a few people who've met the person of their dreams through the app! But there's also the scary stories that make you want to give up dating entirely. 
To give you a fair review, we'll list down both sides of the spectrum to help you make an informed decision. 
Pros of using Tinder
Since its inception, Tinder has always been free. You can upgrade to Tinder premium which unlocks additional features but you can have a lot of fun even without it.

Getting started with Tinder is the easiest thing in the world. You can even set up a profile and go on a date on the same day! Just make sure your profile is fire 🔥🔥

Tinder is one of the very first dating apps of its kind. Many people know about it, and many people use it, so you can expect a wider pool of users. 

Besides having more options, individuals on Tinder use the app for a myriad of reasons. From casual relationships to serious ones, or even if you're just looking for new friends to hang out with. You just have to always be honest with what you're looking for and you'll find IT soon enough 😉

Whenever you change locations, your pool of suitors will refresh too!

Certain dating apps have features where messages will disappear and you can no longer interact with your matches after some time. Thankfully, Tinder is not one of these apps and whatever embarrassing one-liner you sent will forever be there to haunt you. 

Tinder's new Face to Face feature gives users a new video chat function within the app! Since we still can't really meet in person, this is a great way to connect in the meantime. 

Tinder premium comes with a Passport feature that lets you swipe according to the location you want. For instance, if you're planning a trip to another location, you can swipe and set up a few dates ahead of time. Now this is what we call effective dating!

Tinder understands that stranger danger is a serious phenomenon. Most of its users begin as strangers, and so they have an on-demand safety feature called

Noonlight

where users can share information of first dates on their timeline such as who, when, and where. Via Noonlight, users can also discreetly reach out to emergency services should they need any assistance.
Cons of using Tinder
Tinder doesn't really vet its users which can be a good thing, but also a bad thing because catfishes and scammers can take advantage of this. Photo verification is also not a requirement on Tinder.

It isn't a requirement for users to have complete Tinder profiles. Sometimes, there isn't even a single reliable photo and nothing written on their bio too. Some of these users may be legitimate and just lazy to fill in their info. On the other hand, these could be fake profiles hoping to trap you into a date! The problem is, you'll never really know until you meet up with them.

If you accidentally swipe left (not interested) on a user that you wanted to swipe right (interested) on, you may never see them again as their profile is flung into oblivion. Unless of course, if you upgrade to Tinder premium!

Tinder matches users by location, not by similar interests or hobbies. Basically, swiping on Tinder is more about the looks first, until you initiate a conversation or meet up with them in person and get to know your matches better.
Kudos on taking the brave leap of putting yourself out there! Now, you too can have all the fun that everyone's talking about. 
Nevertheless, we must remind you to always exercise caution with dating on Tinder or any other dating app. 
Even when you're face to face with the profile of a God or Goddess, don't let your naivety cloud your judgements! 
Tinder has truly revolutionized the online dating scene. Since its inception, there have been many new dating apps, each with its own unique features that draws users in. 
You might want to begin your journey on Tinder because it's what all the cool kids are using, but let us introduce you to another dating platform called Sugarbook!
It's the perfect platform for sugar dating and where honest relationships thrive. 
Want to know more? Read about sugar dating here! 
And when you're ready to sign up to Sugarbook, we'll be waiting for you!