Have you ever had to make a tough decision between choosing to spend some lovey dovey time with your beau or a fun night out with your friends? 
Don't worry – we've all been there! And now you're trying to find ways on how to hang out with them both, right? Enter the world of…. group dating! 
Yes, the best way to avoid choosing between your beau or your pals is to plan awesome double date ideas or fun group date plans for more than one couple! 
We know you've got all the fun date ideas or cheap date ideas jotted down for just the two of you, but you might be scratching your head about group date ideas. 
The group date activities don't necessarily need to be expensive either. In fact, it could be cheaper compared to going in a pair. 
Fret not, we've narrowed down some awesome and fun double date or group date ideas so you'll have one ready for your next outing! 
1) Solve mysteries at escape rooms 
Source: thesmartlocal.com
Solve crimes and puzzles together in an escape room! Being trapped in a confined area, you pretty much have no choice but to communicate with each other. 
Your bond between your BFFs would be closer than before. Heck, you'll also find out new facts about them like discovering how one of your friends can't figure out a solution fast enough! 
2) Attend a concert or festival together
Great music, refreshing drinks and delicious food – all at one place. Need we say more? 
Concerts and festivals are some of the best group date ideas if you're looking for a fun night ahead! 
With the loud music blaring through the speakers, there's little to no time for conversations, which is great if you're not too familiar with each other. 
3) Join a group workout class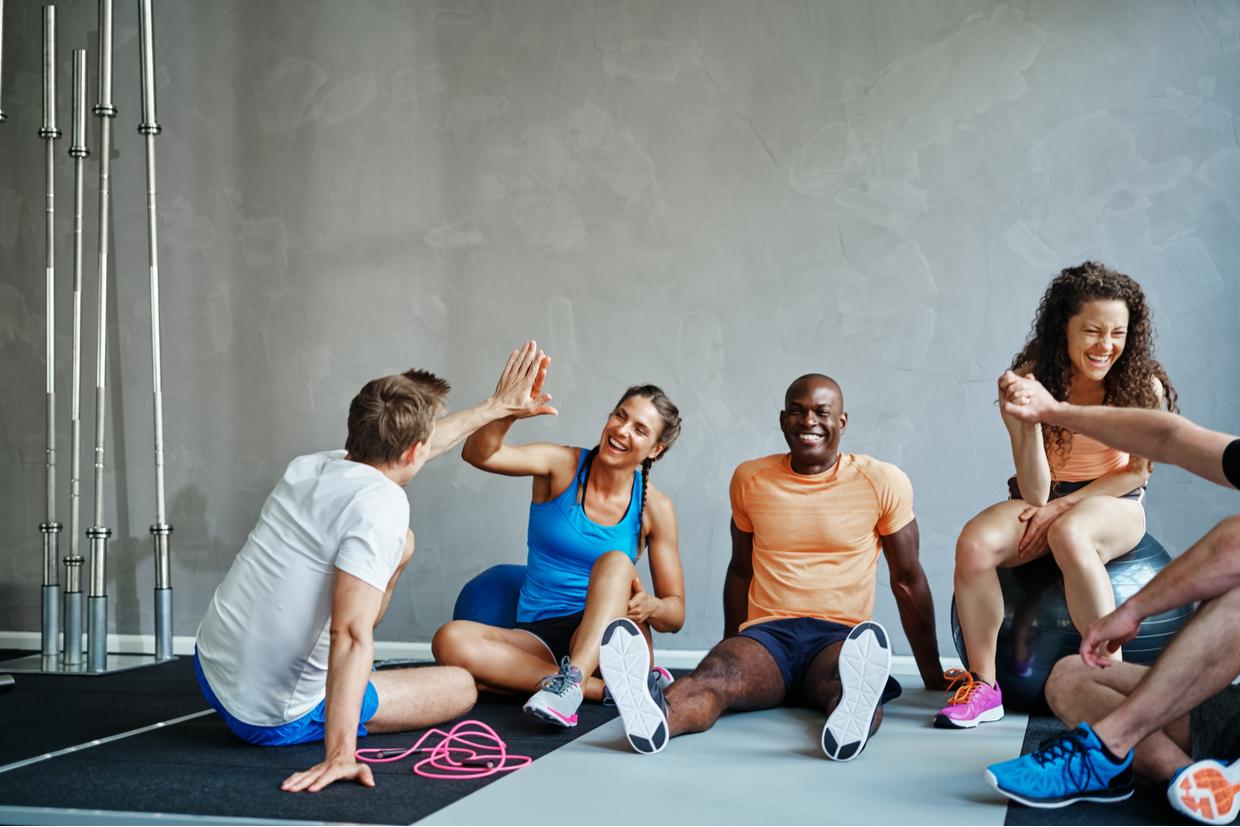 Source: performancehealth.com
You know what they say, a couple that sweats together, stays together!💦(even if it's in bed 😜) 
Participate in a fun group workout class such as spin classes, yoga, boxing, to name a few. We know working out can be a pain for some, hence why it makes the best group date activities since you can motivate each other!
4) Plan a road trip 
It's always more fun when you go on a road trip as a group! Go sight-seeing and visit new tourist spots while munching on the scrumptious local food around. 
The best part about going as a group? Since the bills will be split among everyone on the trip, you'll save more $$ as well! 😝
5) Participate in a workshop
Source: heartroomgallery.com
Learning a new skill can be boring if it's just you alone or with your partner. Get crafty by joining painting workshops, try your hand in sewing, or even learning how to make your own cocktails at home.
Workshops are awesome double date ideas because it's always way cheaper to join one with friends! 
6) Go on a hike 
Looking for fun group date plans? Get some fresh air and your heart pumping while going through a hiking trail! 
Hiking can be fun (and tiring) if it's in a group rather than just the two of you because when you're struggling, at least someone's there to help you.
You'll also burn plenty of calories and possibly build some muscle along the way, so it's a win-win for everyone!  
7) Host a game night 
Charades? PS5? UNO? Game nights are a thing when it comes to group date ideas because it always involves a group! 
When you're hosting your own game night, you're free to choose whatever game seems the most fun to all of you since it's pretty flexible. Yes, that includes the all too famous spin the bottle too 🤭
But be warned: you might end up getting really competitive 😝
8) Play a few rounds of bowling
Roll and play with some balls (not your S/O (significant other)) at a bowling alley! It's one of the best group date activities that doesn't involve conversations much, so you can save yourselves from awkward silences. 
Split into groups without your own S/Os to make it even more fun! You'll be against your own beau, so you'll have the tendency to win even more! 
9) Sing your heart out at karaoke
What about some fun group date plans involving a day full of singing? Belt out your favourite tunes even if one of you sounds like a broken record! 
There's really nothing better than having a karaoke session with other couples and a duo session with your partner. 
You won't have to worry too much about privacy either. There are plenty of private karaoke rooms around so all of you will have ample privacy without anyone judging your voices. 
But be careful not to do any hanky panky activities! Although it's a private room, there's a thing called CCTV 😉
10) Try planning a game of paintball or laser tag 
If you're thinking it's just for kids, you've probably never played it before, haven't you? 🤔
Paintball or laser tag games are one of the most fun group date activities when it's with your friends! 
Because really, we're all competitive one way or another when trying to out beat our friends. Go for the real deal; paintball, if you can stand the pain – or laser tag for those who prefer not to get bruises after battling it out! 
11) Indulge in good food while cafe hopping 
Another awesome double date idea for those who are extreme foodies! Hop on a single car (hence why it's great for double dates!), chip in for the petrol fare and start hunting amazing cafes. 
After all, no one can say no to cafe hopping and filling up our stomachs with food. Literally, no one! 
Aside from having insta-worthy photos at some aesthetic cafes which makes the perfect spot for couple pics, you'll be trying out a wide variety of good food or fancy beverages. From western to asian cuisine, the whole group will end up coming back with a happy (but bloated) belly after. 
12) Laugh your lungs out at a local comedy club 
As the saying goes, 'laughter is the best medicine'. If you're in need of group date activities that could cure the blues away, a comedy club would be the best idea! 
It's also one of the recommended group date ideas if you're not that close with the other couples that tag along. Wouldn't it be a great memory to talk about later on during your next group date too? 
13) Get some vitamin 'sea' at the beach 
Source: introtravel.com
Craving to feel sand in between your toes or for a nice sun tan? Grab all your friends with your beau and head over to a beach for a sun-tastic good time! 
Put on your cute bikinis and hunky swim trunks as you stroll along the beach! Engage with several adrenaline water sport activities while you're at it too. 
For a little mellow time at the beach, grab your mini speakers and snacks to simply just chill (or cuddle) on blankets. 
14) Ride a go-kart 
Being in love with your beau isn't the only way to get an adrenaline rush! Feel the beat of your heart pumping and race against each other to the finish line with go karts.
While you can't race legally on the streets, bring out your inner street racer persona in you with go karts instead! The boys in the group would definitely find go karts one of the best group date activities ever. 
15) Get together for a drinking night at home
Pop some champagne or gather around a crate of beers with your mates for a night of drinking! It's way cheaper than downing drinks at a bar. 
Sway your hips to the music with a drink in hand for a good night. Order in some takeaway like pizza to complete the night! 
Plus, we all know how alcohol tends to make us open up more, so it's one of the group date ideas to get closer with one another. 
16) Volunteer at an NGO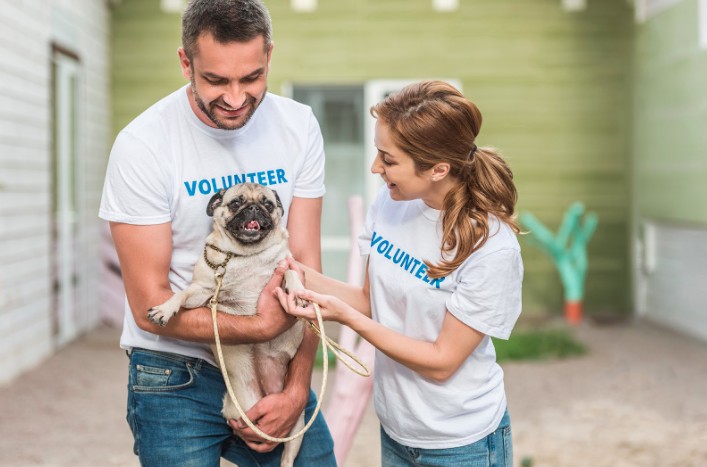 Source: sentientmedia.org
The more, the merrier! Many NGOs are looking for volunteers and what's better than doing good for society as one of your group date activities? 
Making an impact on society together with your beau and your pals at an NGO doesn't cost a single dime too, you'll only need to put in some hours and help them out! 
Be it an animal shelter (plus point if all of you love animals) or an old folk's home, putting a smile on their faces would instantly fill you up with immense happiness. 
Oh, and did we mention how it makes you happy too? When we help others out, our brain releases a happy hormone called 'serotonin'. Hence why volunteering could make all of you insanely happy afterwards! 
Feeling overwhelmed with all these awesome double date ideas and fun group date plans? Well, if you can't contain your excitement, quickly register yourself on Sugarbook to start planning these group date activities with the sugar bowl community!