Looking for a way to relax and unwind with your loved one after a long and tiring week?
Wondering where to bring your date for a quiet and refreshing time?
Hoping to surprise and pamper your partner on their special day?
Look no further — going to a couple spas is the answer you're looking for.
If that sounds wonderful to you, here is a list of the must-go couple spas in Singapore.
10 of the Best Couple Spas in Singapore:
Credit: Hype & Stuff
The Nimble/Knead Spa offers a variety of spa treatments to provide the perfect couples experience. It is the perfect couple spa in Singapore to go to remove all the baggage that comes with a fatigued body.
It offers a variety of body massages with inspiring names such as 'A Thousand Smiles in the Rising Sun'. With a name like that, you are guaranteed to find your best couple spa experience at Nimble/Knead.
Credit: Aramsa The Garden Spa
Aramsa is a spa that stands out among the other spas in Singapore. It's a little difficult to find because it's in the centre of Bishan Park, so allow additional time on your commute.
This garden spa is outstanding in terms of aesthetics, with 17 tastefully constructed treatment rooms, each with its own outdoor courtyard and its own outdoor showers or therapeutic hydrotherapy tubs set against a rainforest backdrop.
Tip: book the bath treatment to get to use the therapeutic hydrotherapy tub.
This is one spa retreat for couples that will help them get back in touch with Mother Nature.
Credit: Raffles
Looking to treat your partner like the king/queen they are? You don't need to go further than the best couple spa you can find in 2021.
Visit the newly renovated Raffles Spa, a holistic retreat that offers soothing spa treatments and a sense of restored well-being. 
The spa, which was designed by famous New York-based interior design company Champalimaud, has seven treatment suites named after jewels, including The Gem Suite, a private and exclusive couple suite.
Sounds just like the right place to pamper your beloved!
Credit: Ikeda Spa
A must-go couple spa in Singapore for the onsen lovers, you don't have to travel to Japan to enjoy an onsen bath. 
The bathing experience at Ikeda Spa is realistic enough to impress even the wisest red-faced macaque: black ceramic floor tiles, shower valves and stools, and, of course, a hinokiburo — a tub made of Japanese cypress – imported directly from Japan. 
Credit: Capella Hotels
Nestled in the beautiful rainforest of Sentosa Island, Auriga Spa at Capella Singapore is a wonderful cocoon for relaxation and rejuvenation.
Discover spa getaways and unique treatments that immerse the senses with ancient techniques and organic materials.
Auriga has a lot of rooms, including four couple spa rooms with their own private garden where you can enjoy a luxurious couple spa retreat right here in Singapore.
Credit: ESPA
Also located on Sentosa Island, ESPA is the perfect couple spa in Singapore for those looking for a little more privacy.
Speaking of privacy, this spa would make a lovely place to visit for sugar parents and their sugar babies looking to relax and spend time together. 
ESPA, located next to Resorts World Sentosa's water-themed Equarius Hotel, is designed for ultimate solitude and leisure, with just two Garden Suites and two Beach Villas catering to couples.
Both choices are self-contained spas with their own changing rooms, lounges, and leisure areas. Sounds like a dream come true for our discreet couples!
Credit: Paragon
This rooftop spa retreat in Paragon will awaken life's sensual delights. This contemporary urban spa, which spans over 10,000 square feet, is a pleasant break from the rush and bustle of downtown Orchard Road.
You'll find a range of spa treatments for couples at Adeva Spa. They provide a one-hour body massage and a half-hour Jacuzzi treatment.  If you're short on time, the Hann Couple Body Massage is a great option.
Adeva spa is the ideal location for a couple retreat, having won several accolades such as "Best Luxury Day."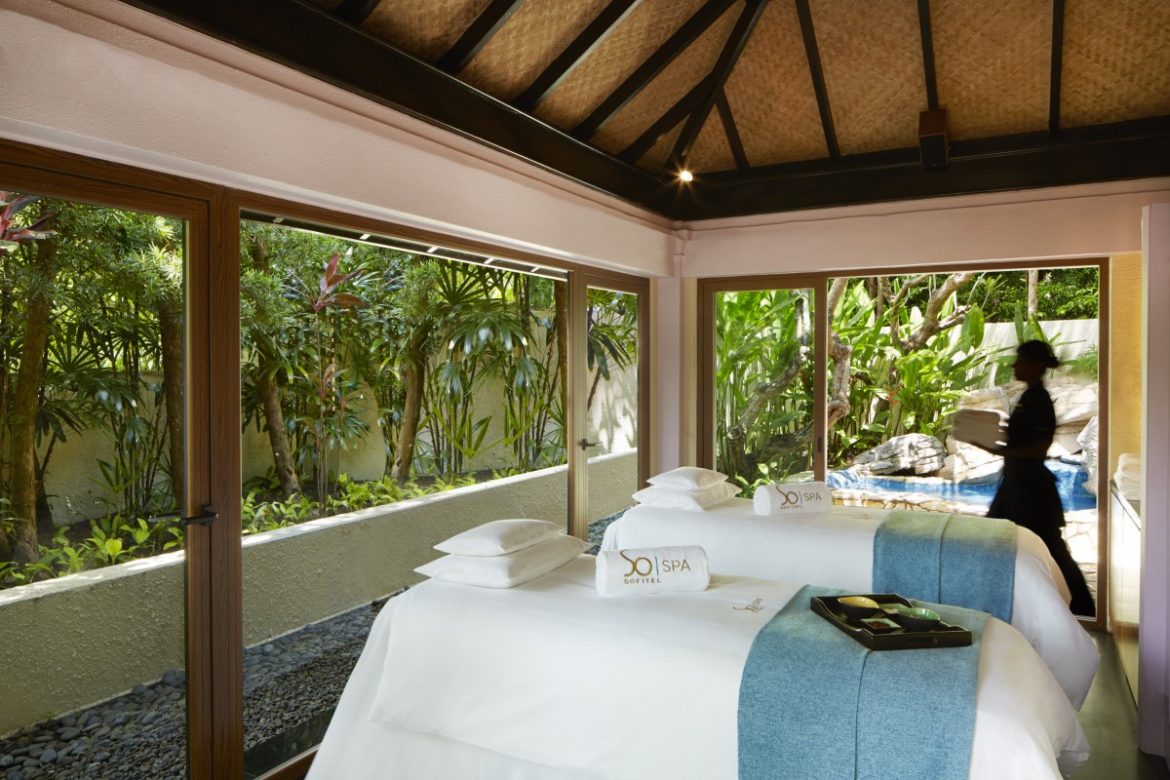 Credit: Sofitel
So SPA is an award-winning spa with expert therapists and aestheticians of at least 15 years of experience dedicated to you and your loved one's well-being.
So SPA treatments are based on French cosmetology with a hint of Asian influence. Its spa menu is even structured like that of a fine dining restaurant in France: treatments are divided into appetisers, main courses, and desserts, and you're encouraged to mix and match them.
We are not surprised at all that So SPA made it on the list of one of the best couple spas you must visit in Singapore and Sentosa Island.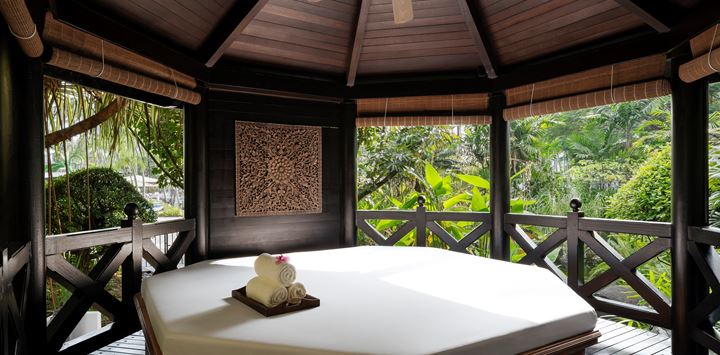 Credit: Shangri-La
A must-go couple spa in Singapore if you are looking to surprise your partner during a special occasion, head to the CHI branch at Rasa Sentosa Resort and Spa.
Outdoor massage pavilions are available for those who like the sounds of nature as well as seven single rooms and three couple treatment suites.
CHI, The Spa also provides a wide selection of body and face treatments, including the CHI Singapore Massage which is exclusive to the Rasa Sentosa location.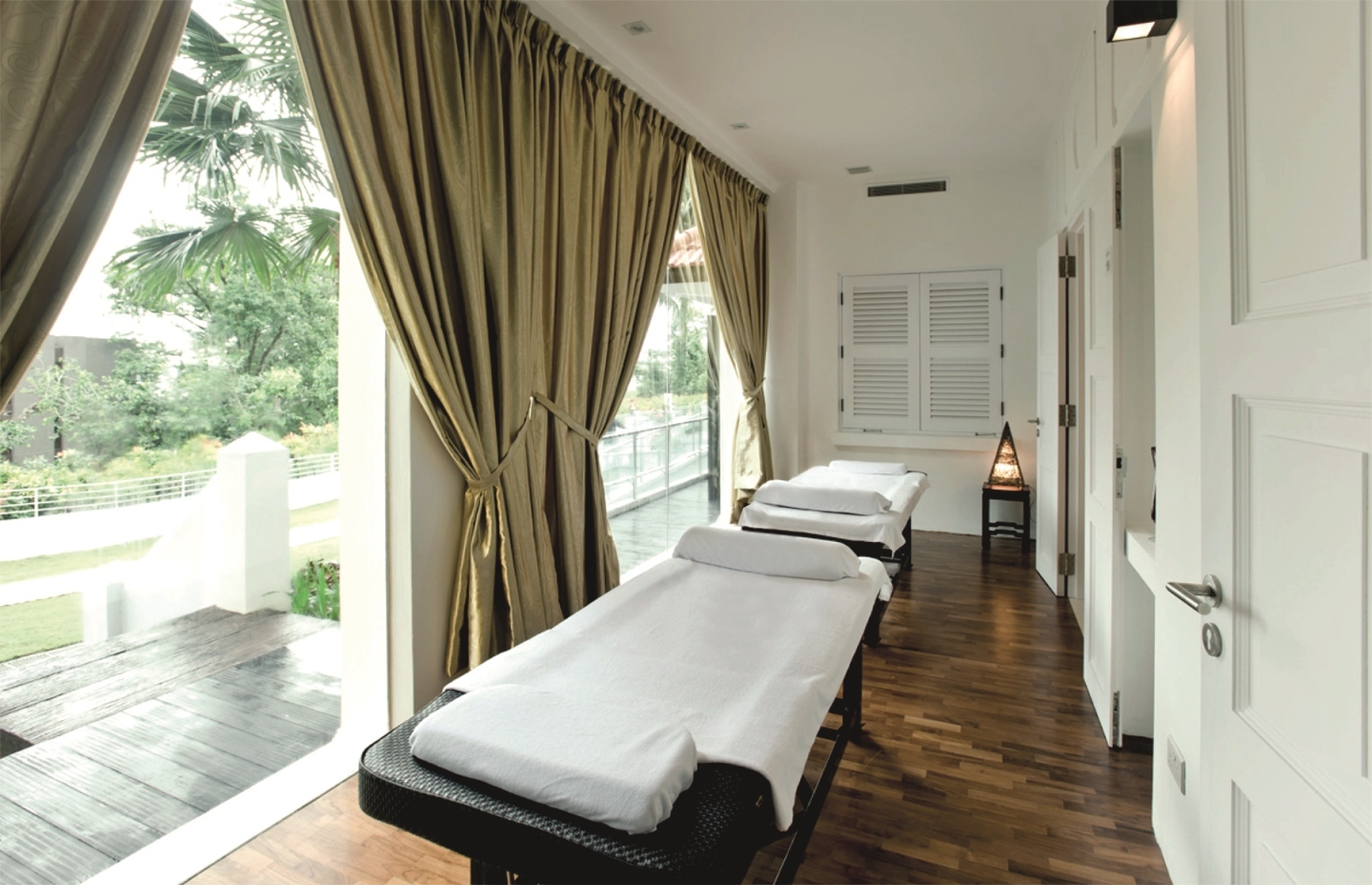 Credit: Time Out
Spa Luna, hidden deep inside the grounds of Amara Sanctuary Resort Sentosa has three couple rooms, each with its own ensuite bathroom.
Spa services such as Body Cocoons and a variety of massage therapies are among the spa's offerings, ensuring that all of your pampering needs are met.
And why not complete the experience with a villa staycation for the ideal peaceful weekend escape? This sounds like the best couple spa you need to visit right now!
If you are looking for 2021's best couple spas in Singapore to bring your beloved to, we hope this list does the job for you.
And if you are looking for someone to go to a couples spa with, why not dip your toes in the sugar bowl? 
Sugarbook might just have the perfect companion for you and here's a guideline on how to get started!