Have you been itching for a quick vacay or long weekend getaway with your loved ones? 
We rounded up some of the best staycation options that are suitable for family staycations too! Don't say bojio! 
These hotel staycations range from boutique to luxurious options. Take your pick with our wide selection and hop on to your next getaway.
Be sure to check out the staycation deals from all these options to save more before making a reservation. 
Best Staycations in Singapore 2021
1 – Marina Bay Sands 
Source: marinabaysands.com
If you haven't heard of Marina Bay Sands, you must be living under a rock. Besides being widely known as an iconic hotel with unique structure in Singapore, it's also the best staycation option around!
Take a dip in the world's largest infinity pool while admiring the scenic views along with your beau or buddies. 
Don't worry about an empty stomach as there is a wide variety of good food to feast on from morning to night including notable fine dining restaurants such as Bread Street Kitchen by Gordon Ramsay and Wolfgang Puck.
With rooms containing modern bathtubs offering panoramic views of Singapore, nothing can get more luxurious than this! 
Oh, and did we mention some of their luxurious suites come with their own private gym, sauna, massage room, and even a baby grand piano? Luxury at its finest, baby! 
Location: 10 Bayfront Ave, Singapore 018956
Website: Marina Bay Sands
Contact: +65 6688 8868
Price: Starting from $352/night
2 – Amara Sanctuary Resort Sentosa
Source: sentosa.amarahotels.com
Who can say no to luxury resorts which might just be a complete sanctuary for those looking to escape the hustle and bustle of the city life? 
The Amara Sanctuary surrounded by lush greenery is a crowd's favourite as it makes an ideal staycation spot to reflect and recharge with your loved ones. 
No staycation is complete without indulging in quality food, which is offered all day long at Shutters. Also, don't miss out sipping on a cocktail overlooking the tropical rainforest at the Tier Bar to end the night! 
Location: Sentosa Island, 1 Larkhill Rd, Singapore 099394
Website: Amara Sanctuary Resort Sentosa
Contact: +65 6825 3888
Price: Starting from $288/night
3 – The Vagabond Club
Source: trivago.in
With the slogan 'if you must get in trouble, do it at The Vagabond Club' plastered on their website, if you're looking for a cultural (or kinky 😏) staycation with your bae, The Vagabond Club would be your best bet. 
Upon entering this boutique hotel, you'll be mesmerized by the cultural vibes the interior brings. Couples all around have grown to love The Vagabond club thanks to their useful staycation packages! 
Whether you'd prefer to stay indoors with your beau and dine at the famous Chinese restaurant Yellow Pot or explore the vibrant streets of Little India, choose the staycation package offered by this luxury boutique hotel that'll satisfy both of your needs. 
Location: 39 Syed Alwi Rd, Singapore 207630
Website: The Vagabond Club
Contact: +65 6291 6677
Price: Starting from $299/night
4 – The Ritz-Carlton, Millenia Singapore
Source: ritzcarlton.com
Looking to spend a night or two for a special occasion with your beau? Head on down to one of the most romantic hotel suites in the whole world that'll get your bae's heart racing! 
The ultimate romantic staycation for breathtaking views from the bathtub which was also voted as 'The World's Sexiest Bathrooms'. Need we say more? 
Be sure to grab a glass of wine and toast to a good relationship ahead at the Club Lounge where you'll be able to view the sunset. 
Location: Marina Bay 7, Raffles Ave, Singapore 039799
Website: The Ritz-Carlton, Millenia Singapore
Contact: +65 6337 8888
Price: Starting from $269/night
5 – The Warehouse Hotel
Source: thewarehousehotel.com
This isn't your ordinary large luxury hotel, but it will be your next favourite staycation spot once you've stepped foot inside with a modern, sleek interior in plain eyesight. 
The Warehouse Hotel is surrounded by lively bars, cafes and restaurants for you and your loved ones to indulge all day long. 
Prefer to stay indoors and dine instead? Make your way to the boutique heritage hotel's very own restaurant, Po. Pork lovers would enjoy The Char Siew Kurobuta Pork that literally melts in your mouth!
Location: 320 Havelock Road, Robertson Quay, Singapore 169628
Website: The Warehouse Hotel
Contact: +65 6828 0000
Price: Starting from $325
6 – Sheraton Towers Singapore
Source: Marriott.com
Situated close to the Orchard Road where you and your bae could head to for a shopping spree, the Sheraton Towers is known for being the best staycation right in the heart of the city centre! 
Offering staycation deals that are good for value including a romantic getaway which includes a complimentary wine bottle to toast the night, nothing could be better than this! 
If your budget allows, consider dining at the award-winning Li Bai Cantonese Restaurant for a fancy 5-course Cantonese set dinner that'll satisfy your stomach for days.
Location: 39 Scotts Rd, Singapore 228230
Website: Sheraton Towers Singapore
Contact: +65 6737 6888
Price: Starting from $286
7 – Raffles Singapore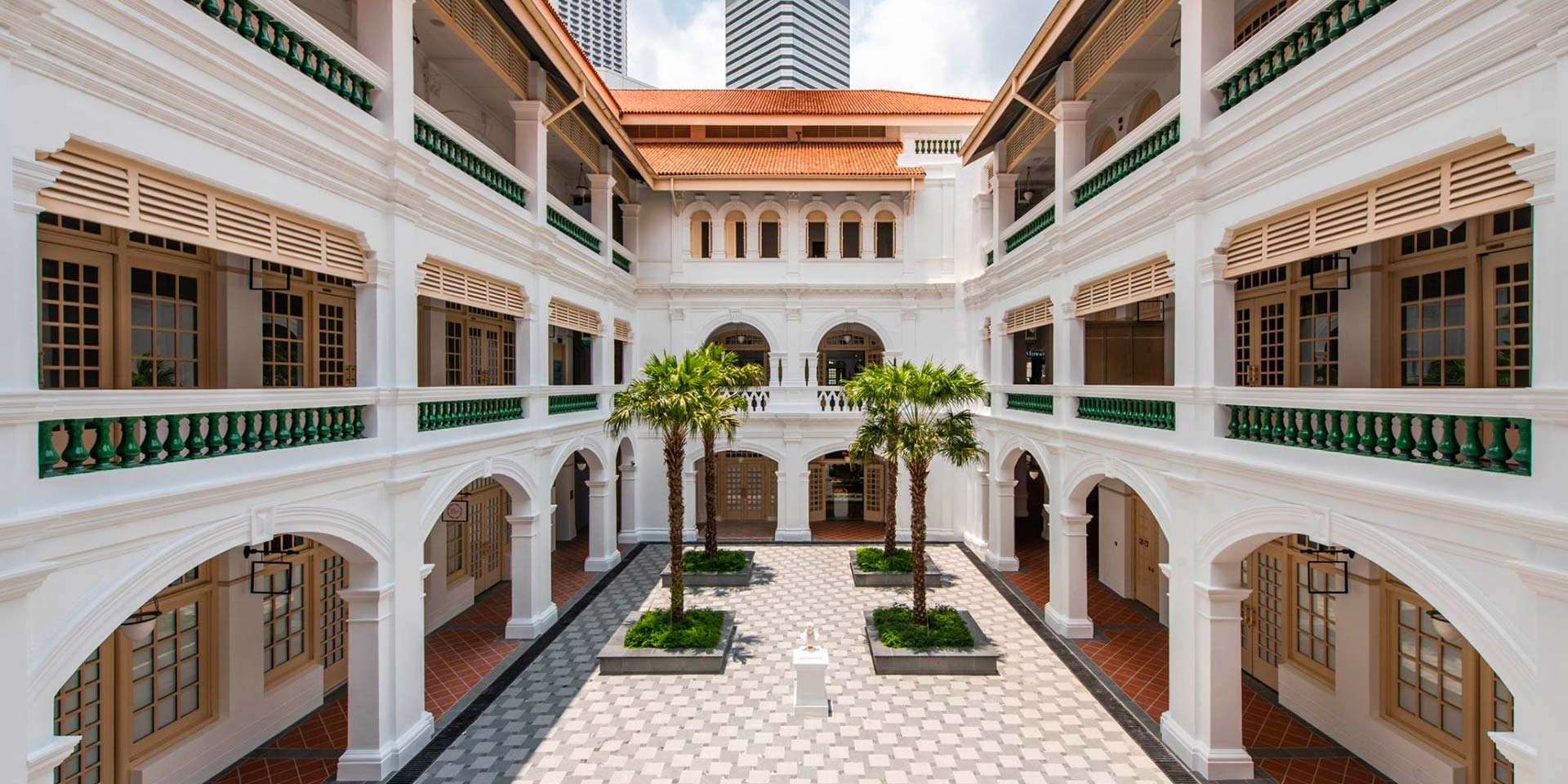 Source: qantas.com
Ever heard of the iconic national drink called Singapore Sling? Here's a little fun fact: it's actually made by a bartender from this hotel! 
Go back in time for a historical staycation right here at Raffles Hotel Singapore. For hotel staycations that bring out the old school in you, you might want to stay the night or more and take in the colonial-style atmosphere. 
Take a break from the hectic lifestyle at the spa and spend quality time together with your gal pals or beau.
Location: 1 Beach Rd, Singapore 189673
Website: Raffles Singapore
Contact: +65 6337 1886
Price: Starting from $809
8 – M Social Singapore
Source: agoda.com
Trust us when we say the M Social is for all you trendy Millennials that love contemporary interior (and mainly to take Insta-worthy photos). 
Go for the Alcove and Loft Terrace Rooms to get cosy and comfy with your bae at the private terraces. Take a stroll along Clarke Quay and grab a bite after at one of the fancy restaurants in Robertson Quay.  
Location: 90 Robertson Quay, Singapore 238259
Website: M Social Singapore
Contact: +65 6206 1888
Price: Starting from $190
9 – Lloyd's Inn
Source: theinnbox.co
Say hello to minimalistic interior designs! No matter where you are, you'll be ready to take a quick snap for the 'gram!
It's close to Orchard Road, so all you men out there could bring along your lovely ladies for an insane shopping spree after cosying it up at your aesthetic rooms.
Despite not having a swimming pool, there's always The Big Sky Room where you'll oversee the beautiful blue skies while soaking in the bathtub. 
Location: 2 Lloyd Rd, Singapore 239091
Website: Lloyd's Inn
Contact: +65 6737 7309
Price: Starting from $180
10 – Villa Samadhi
Source: Agoda
Need a change of scenery? If you and your boo are fed up with the city, be one with nature at Villa Samadhi, a staycation that'll only require good food, a dip in a pool, and each other's company. 
This boutique hotel is no stranger to couples wanting an escape and need some quality time together (known to be a good tip for a healthy relationship!) 
After all, going for a short getaway could bring back the spice in the relationship too  😉
Location: 20 Labrador Villa Rd, Singapore 119193
Website: Villa Samadhi
Contact: +65 6274 5674
Price: Starting from $497/night
11 – Capella Singapore
Source: tasteinhotels.com
Can't go overseas for an island vacay? Erase that frown away because Capella Singapore is where you'll get the island staycation vibes while being surrounded by the smooth breeze on Sentosa Island! 
Featuring an outdoor pool full of lush greenery all around, even if you don't like to swim, you'll end up wanting to be in the water soon enough! 
Perfect for the well-needed long weekend staycation, right? 
Location: 1 The Knolls, Sentosa Island, Singapore 098297
Website: Capella Singapore
Contact: +65 6377 8888
Price: Starting from $782/night
12 – The St. Regis Singapore
Source: marriott.com
Although this luxury hotel is the perfect family staycation, it's also great for couples who enjoy a five-star staycation experience.  
Designer fabrics and luxury linens, you'll feel like you're part of the royal family after being surrounded by hanging crystal chandeliers in the lobby, dining area and hotel suites. 
Take your pick on the preferred cuisine, French or Cantonese at their in-house restaurants Brasserie Les Saveurs and Yan Ting. 
Location: 29 Tanglin Rd, Singapore 247911
Website: The St. Regis Singapore
Contact: +65 6506 6888
Price: Starts from $440/night
13 – Grand Hyatt Singapore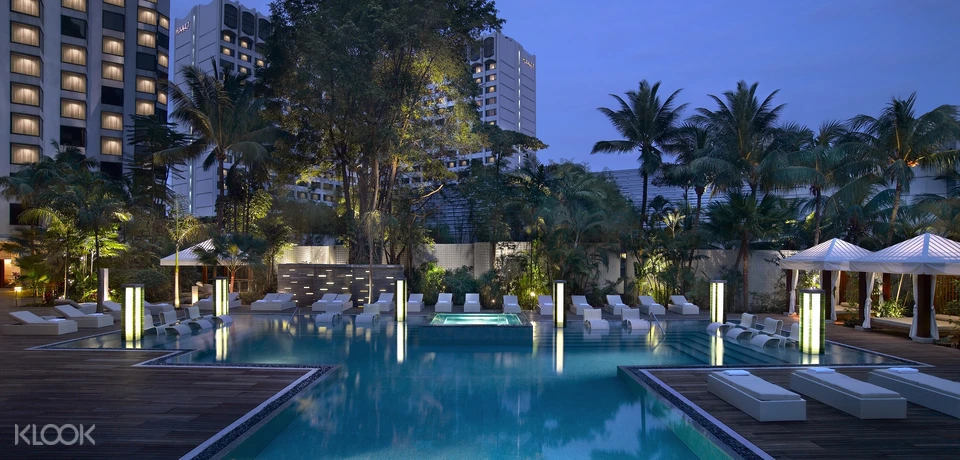 Source: klook.com
Among all the other hotel staycations lined up at Orchard Road, The Grand Hyatt Singapore seems to be the best staycation most couples and families would go for. 
Of course, you can't miss the outdoor swimming pool with lush gardens all around it. Add on the luxurious spa, and you'll be in for an ultimate relaxing staycation ahead! 
Location: 10 Scotts Rd, Singapore 228211
The main reason? It's slightly more affordable compared to the rest, and we all know if there's a chance to enjoy luxurious staycations at a cheaper price, we'll book it in a heartbeat. 
Website: Grand Hyatt Singapore
Contact: +65 6738 1234
Price: Starts from $244
14 – Crowne Plaza Changi Airport
Source: ihg.com
Hold on, hold that thought – you might be thinking, why would I ever plan a staycation at an airport?! Let us explain why, and you'll just book a room right after this. 
We all know how amazing Changi Airport is (it's not named one of the best airports in the world for nothing, peeps) with various fun and exciting facilities. 
From the Canopy Park to the Butterfly Garden, and fun slides for people of all ages, it'll definitely be a fun date idea too!
The Changi Airport is a unique staycation experience by itself; and what more when you book a room at the Crowne Plaza where you could easily try out all these attractions. 
A little tip from us: book the deluxe or suite rooms to get a nice bubble bath.
Location: 75 Airport Blvd., 01-01, Singapore 819664
Website: Crowne Plaza Changi Airport
Contact: +65 6823 5300
Price: Starts from $239
15 – Hotel Mono
Source: wallpaper.com
A hotel filled with rooms of only monochrome colours? Yes, please! 
Sometimes too much colour and designs could really be a sore to the eyes. But nothing's more calming than minimalist hotel rooms for a relaxing staycation at Hotel Mono (the name itself already has the word 'mono')! 
Being located in Chinatown, if you're looking for a staycation to explore the streets in this part of the town, Hotel Mono would be ideal. 
Take the Loft room if you're on a family staycation, though!
Location: 18 Mosque St, Singapore 059498
Website: Hotel Mono
Contact: +65 6326 0430
Price: Starts from $79
And that concludes our list of the best staycation in Singapore 2021! Whether it's for a family staycation or simply for your romantic relationship, take a look at the latest staycation deals and book your next getaway! 
Pssst… need more information about the famous date ideas in Singapore or general dating advice? Head to Sugarbook's blog! 
And if you are looking for some companionship to go on luxurious staycations and experience posh getaways with, perhaps you could try joining Sugarbook! You'll be able to meet new people that'll be more than happy to hop on luxury holidays with you.