When we say we're film connoisseurs, we're talking about a specific element in filmmaking that we've grown to appreciate very dearly. Porn in the film is a little treat that you earn as an adult— suddenly, we find ourselves thanking the 18+ rating stamped on posters. 
From steamy make-out sessions to full-frontal fucking; we've gathered a list of the best 15 porn movies to watch in 2021. After all, what's hotter than seeing gorgeous celebrities get it on camera? We're visual learners. 
1 – Fifty Shades of Grey (2015)
Source: Fifty Shades of Grey – Vox
How could we not start with this gem? The film that introduced BDSM culture to the mainstream media: the love of leather, whips, and chains were no longer something to hide behind closed doors anymore. 
Fifty Shades of Grey is easily one of the best porn movies of all time, even today in 2021. The erotic build-up of the film, the way it tantalizingly teases every sense of yours has us absolutely salivating for more. If there was ever a time to bring up exploring your dark side with your partner, let this film do the talking for you. 
2 – 365 Days (2020) 
Source: New York Post
When 365 Days hit Netflix, literally no one could stop talking about it. If any of you had the fantasy of being held hostage by a hunky daddy who makes you sign a contract to enter a BDSM relationship with him… well, do we need to say more? 
365 Days is the best definition of a porn movie, which is why it ranks so high on our list of must-watch porn movies of 2021. Netflix didn't hold back when it came to the spicy parts, giving us what must have been some of the most graphic porn scenes to hit the silver screens. Our personal favourite part? The thick dribble of spit before the lead actor dove down to dig into his main entree of his lover. 
3 – All The Bright Places (2020)
Source: Fanart.tv
A young adult romantic film with a porn scene?! Talk about a dream come (pun intended) true! All The Bright Places stars Elle Fanning and Justice Smith and is perfect for those of you who want romantic porn. 
The reason why this is so high on our list of erotic films of all time is because of how much tension is built between the two characters. As the sexual tension keeps piling up, we eventually reach the boiling point where… well, we'll leave it to you to see how it went down. 
4 – Sleeping with Other People (2015)
Source: Cinemablographer
For the rom-com addicts who want a little more in their films, Sleeping With Other People delivers exactly what you'd want. A fun porn film starring Alison Brie and Jason Sudeikis, it touches on sex addicts and even focuses on female pleasure. 
We don't know about you but there is nothing hotter than when a woman takes charge in the bedroom for once, which is what we see Alison doing when she masturbates during sex and even shows her partner how to pleasure her by demonstrating on an empty bottle. Talk about building up sexual frustration! 
5 – Parasite (2019)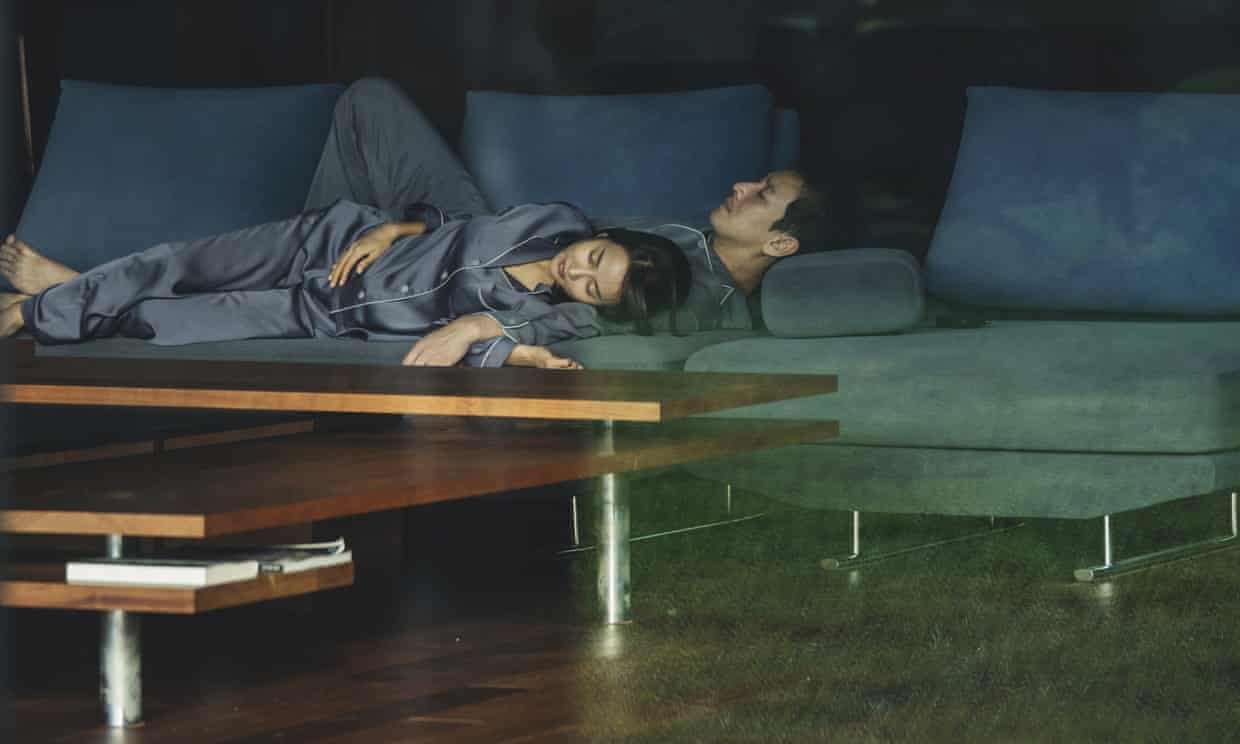 Source:The Guardian
When Parasite hit the silver screens, no one expected the mainstream success to carry this film all the way to sweeping up the main award at the 2020 Oscars. Asides from its haunting message of class struggle, this black comedy also has a particularly spicy scene in it that has yet to leave our minds. 
The sex scene where Mr Kim engages in dirty talk with Mrs Kim about their driver while fondling her and even going a bit more further than just that makes it to be a must-watch porn movie. We still can't get over the pure eroticism of Mrs Kim obediently sucking on his fingers as she's in pure ecstasy. 
6 – American Pie (1999)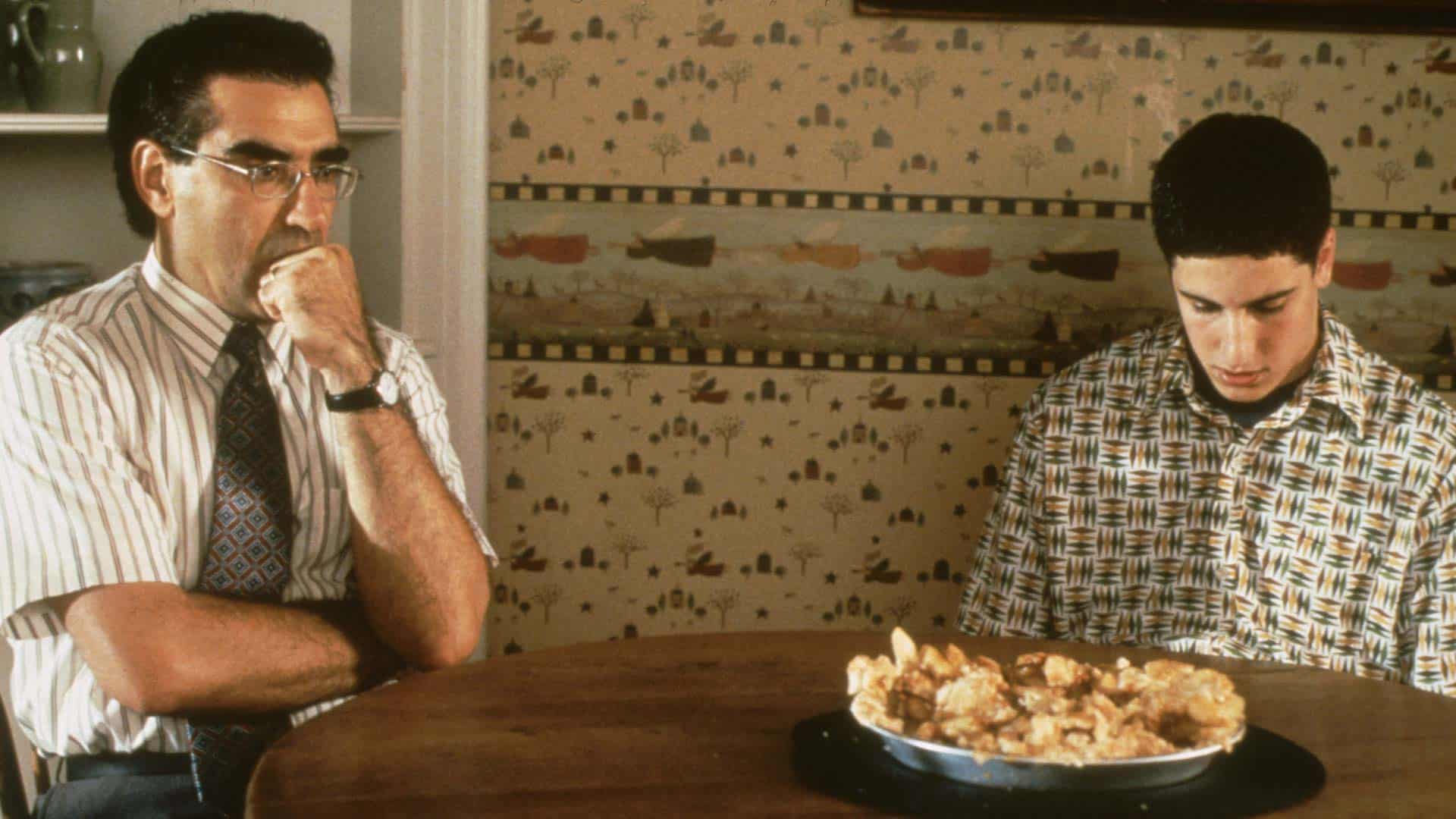 Source:TV Overmind
Who says porn films can't be humorous? American Pie is a classic fun porn movie, mainly from its plot point of four high schoolers who are desperate to lose their virginity. Asides from being a film about sex, the fun porn scene is definitely when the main character decided to replicate the feeling of sex by making love to a pie. While not necessarily erotic, American Pie is a classic must-watch porn movie for the sole humour content of how hilarious such a simple act can be. 
7 – Forgetting Sarah Marshall (2008)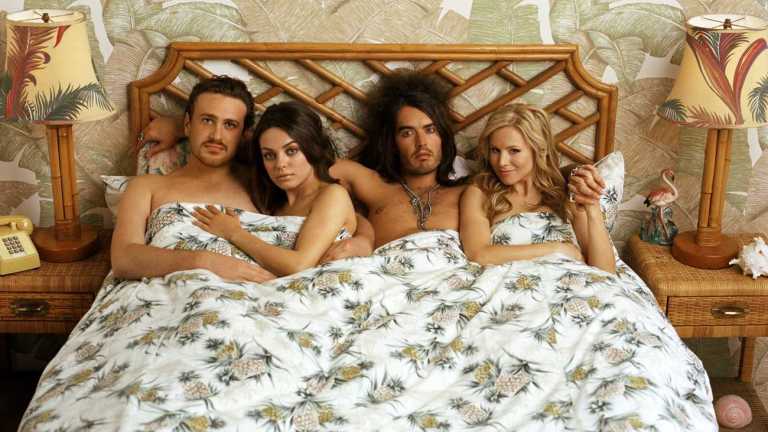 Source: Den of Geek
Yet another fun movie with porn in it, Forgetting Sarah Marshall is a hilarious rom-com where porn is tackled with laughs. Asides from the full-frontal nudity from Jason Segel, we also see incredibly hot pictures of a topless Mila Kunis as well as a hilarious sex scene between Kristen Bell and Russell Brand.
8 – Sausage Party (2016)
Source: Variety
Seth Rogan's attempt at making an animated film for adults still haunts us to this day. Sausage Party is a fun porn movie as it doesn't shy away from its true nature, boldly making it apparent that this film is indeed, porn in an animated form. If you ever wanted to see animated food get it on… well, let's say you have your night sorted. 
9 – Midsommar (2019)
Source:  Creepy Catalog
Ari Aster's twisted mind birthed the horror film Midsommar, which includes a sex scene for all you freaks who are lovers of all things alternative. The porn in this movie takes place in the form of a cult, where Jack Reynor has sex with a village girl while the cult watches them (you heard that right) and even humming along. Oh, did we mention that they're naked? 
10 – The Handmaiden (2016) 
Source: Geoffreview
Park Chan Wook's thriller is the definition of edging; you'll be at the edge of your seat trying to wonder what's going to happen because just when you think you know where this is going— you'll be denied the pleasure of exactly that. This Victorian lesbian thriller based on "The Fingersmith" by Sarah Waters tells the tale of two unlikely women brought together by fate. Asides from stunning cinematography and storytelling, one of the most erotic parts of this film include the lovemaking between the two lead female casts. Raw, honest, and intense; the sex scenes in The Handmaiden easily makes it one of the must-watch porn scenes in movies of all time. 
11 – Brokeback Mountain (2006)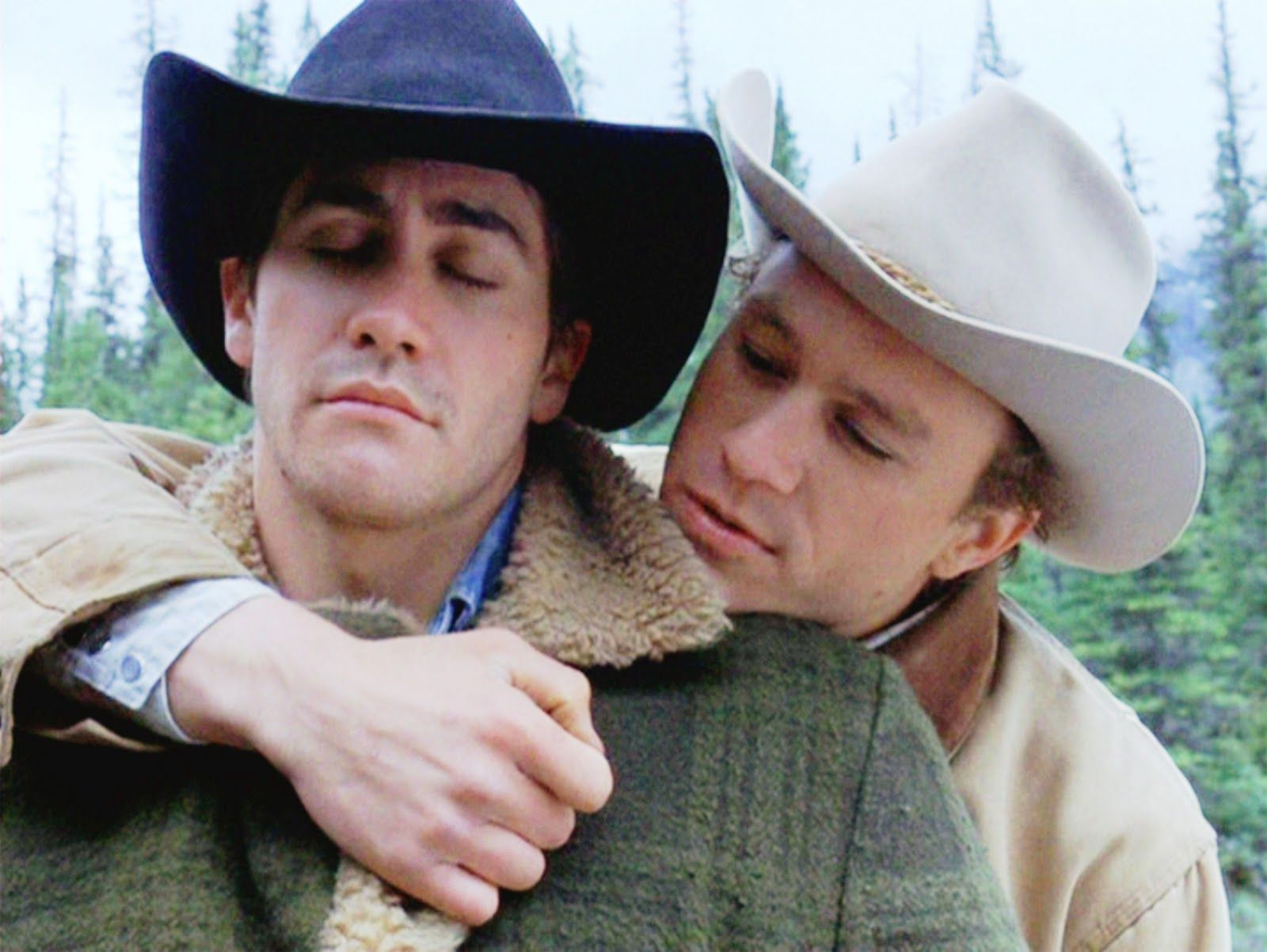 Source: Digital Spy
Ang Lee broke through mainstream media when he included the salacious love affair between two cowboys in his film in 2006. With a whopping 8 Oscar nominations, this film is a beautiful, heart wrenching tale of its own— but we're here for something else. We don't know about you but there is just something else about watching Jake Gyllenhaal and Heath Ledger drunk and slowly realising that there are other things they can do together to keep warm in the snowy hills of Wyoming…
12 – Blue Is The Warmest Colour (2013)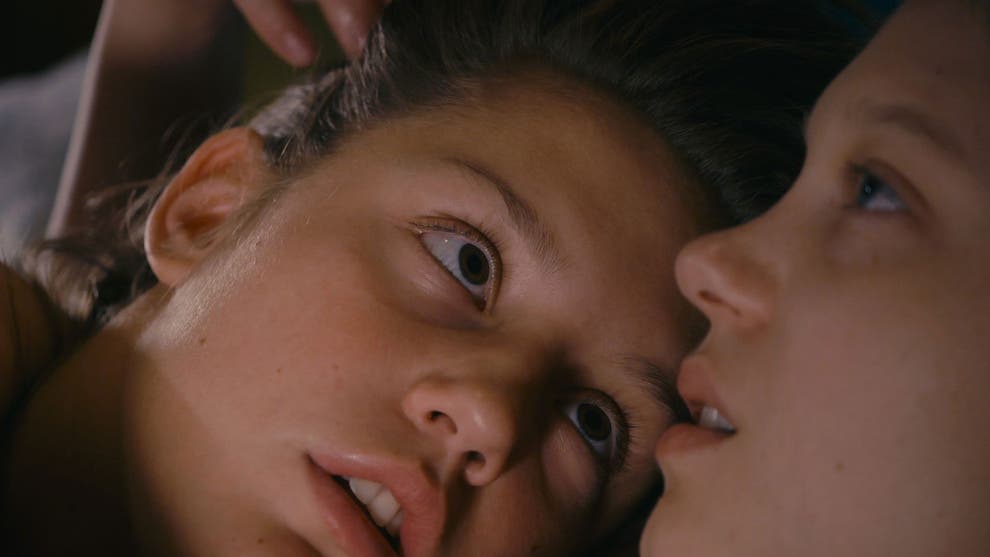 Source: The Independent
This French drama film which won the Palme d'Or at Cannes exploded on the scene when it came out, particularly for its colourful sex scenes between the two female leads. Blue Is The Warmest Colour is one of the best porn movies for the sole reason of having an entire six minutes of pure, unadulterated lesbian sex. 
13 – Call Me By Your Name (2017)
Source: In A Lonely Place Film
If you want aesthetics with your porn movies, look no further than this dreamy film. Set in 1983 where the summers are hot and there's nothing much else to do other than lounge in short shorts and make googly eyes at the hot stranger who's boarding at your home, Call Me By Your Name is an intimate film about sexual discovery between its two male leads. 
Bordering on controversial due to Elio (played by the writhe Timothee Chalamet) being a teenager, the film shows us how exciting and new the experience of falling in love and discovering sexual attraction is from both the perspective of someone young and someone older, in the case of Oliver (played by Armie Hammer). The peach scene lives in our minds rent free, making it the peak of sexual frustration and intimacy in terms of porn movies. 
14 – Carol (2015)
Source: IMDb
Romance, a period drama, and lesbians? Say no more. Carol transports us back to 1952 where Therese (played by Rooney Mara) is instantly drawn to the mysteriously elegant Carol (played by Cate Blanchett) while out shopping. The two women quickly become attached and discover each other in ways like never before.
The scene where Carol undresses Therese before passionately kissing every inch of her body is what makes this a must watch porn movie. The intense sharing of eye contact and laboured breathing is what heightens the experience shared between the two characters, which is enough to get us all hot and bothered. 
15 – Black Swan (2010)
Source: Gudu Ngiseng Blog
Darren Aronofsky's psychological horror stars Natalie Portman as Nina, a ballerina competing for the starring role in the ballet's upcoming production. When Lily (played by Mila Kunis) joins her line up, tension builds as we see how the main character's psyche falls apart due to her strive for perfection. 
What makes Black Swan one of the best porn movies is the intimacy shared on screen between the two female leads. The sex scene shows self exploration in its own natural way, as Nina loses her virginity to signify coming of age despite being infantlised her whole adult life. After all, there's just something else about having sex in your childhood bedroom. 
And with that, we hope that you and your sugar boo have enough entertainment to spice up your evenings before the main event. Looks like popcorn isn't the only thing you're eating tonight. As always, we only ask for thanks in the form of signing in to your profile when you visit us at Sugarbook. 
Till the next one, lovebirds!