Wind in your hair, a glass of cool drink in your hands and wonderful scenery before your eyes — that's what you get when you visit one of the many rooftop bars in Singapore. 
There's just something about being high up in the sky that elevates your mood and makes you feel good. 
Whether it's the end of a long day or a night out with your besties, we've got a list of the best rooftops bars and dining to be found in Singapore that would surely suit your every taste and mood you're looking for.
Here are 20 rooftop bars & dinings in Singapore:
Credit: 1-Altitude
Located at 282 metres above sea level with the most stunning 360-degree views of Singapore's cityscape, 1-Altitude has got to be one of the best rooftop bars in Singapore.
Head towards the 63rd floor of One Raffles Place right before sunset and you will get a gorgeous view of the sun setting over Marina Bay Sands and the Singapore Flyer, the river, and Singapore's CBD.
With seats by the glass wall of the rooftop, you are guaranteed a first-class rooftop experience. Top it up with 1-Altitude's own brand of cocktails such as Pink Floyd and Berry Crush.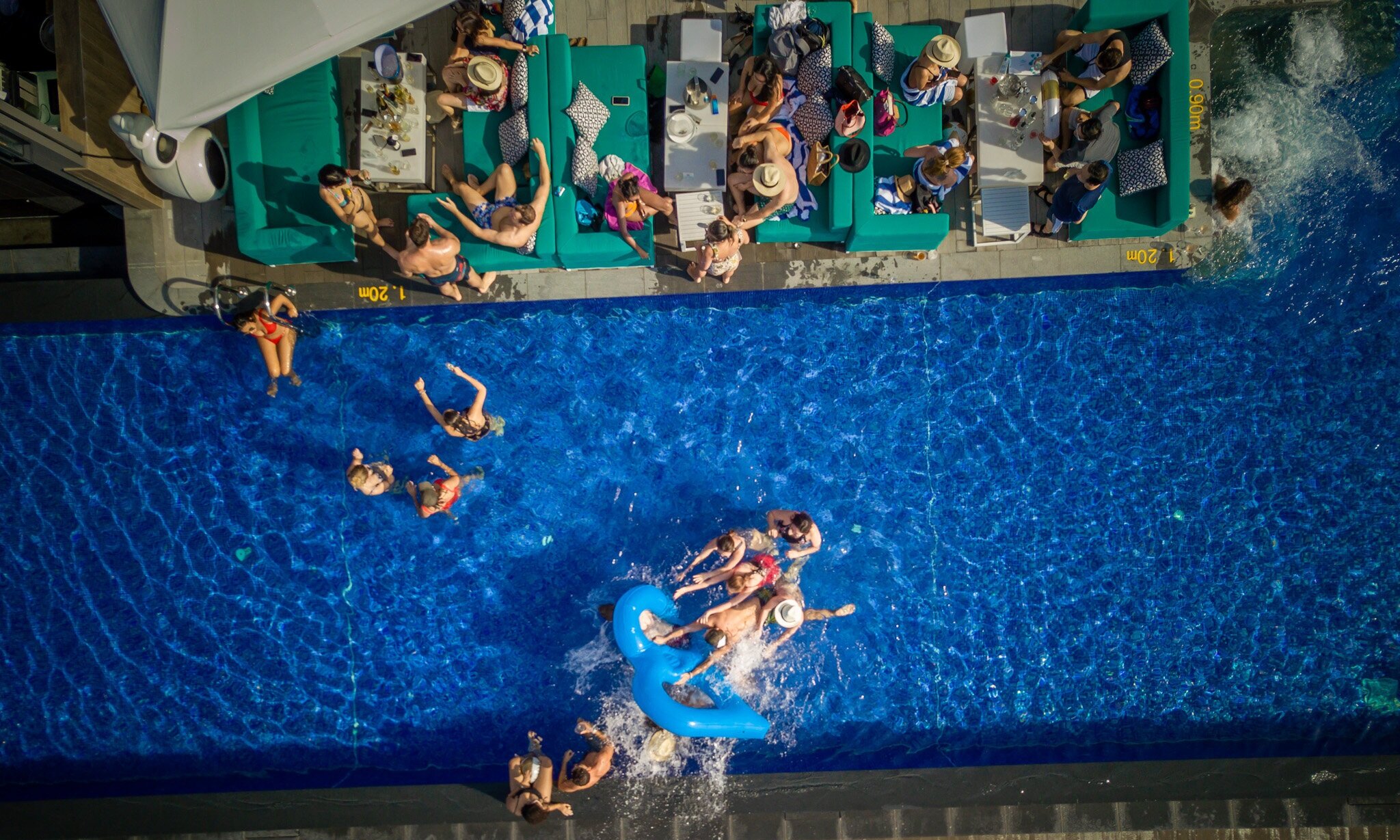 Credit: 1-V:U
A restaurant and poolside day club, 1-V:U (pronounced "one view") is located on the seventh floor of the exclusive The Outpost Hotel. 
This lifestyle destination, which has a bird's eye view of Sentosa's warm orange sunsets, Palawan Beach, and the Singapore Straits, is where you can party from twilight to early morning to the tunes of their resident DJs.
Imagine sipping on a tropical cocktail as you lounge on their turquoise sunbeds by the infinity pool — that's a good life. No surprise there that it landed a spot on the best rooftop dining in Singapore.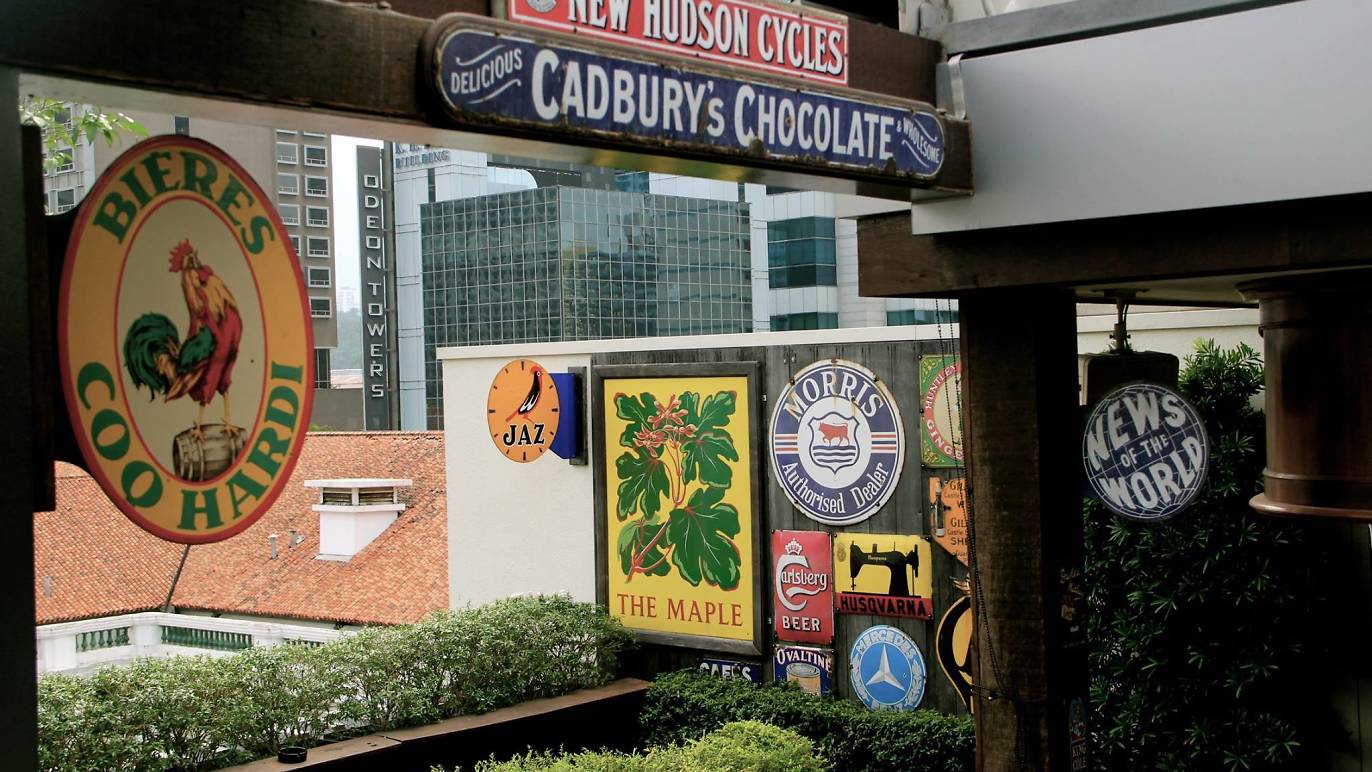 Credit: TimeOut
This may not be the fanciest place or have the greatest views in town, but it does make a pleasant and laid-back spot for a group of friends to enjoy shared punch jars, classic and vintage cocktails, beer, pleasant service, and good vibes.
Given its location on the roof of the Mint Museum of Toys also makes it the most unusual of all the rooftop bars in Singapore.
If you are looking for that classic English pub vibe, this is the place to be.
Credit: First Stop Singapore
Perched 200 metres above sea level atop the world-famous Marina Bay Sands, CÉ LA VI offers some genuinely stunning vistas. It's definitely got the amazing view portion of a rooftop bar right.
This sophisticated and trendy venue, which functions as both a restaurant and a sky bar/club lounge, serves delectable modern Asian food as well as well-crafted and outstanding signature cocktails. 
Visit throughout the day or early evening for lounge atmosphere and spectacular views, or later in the evening to dance the night away to live DJs.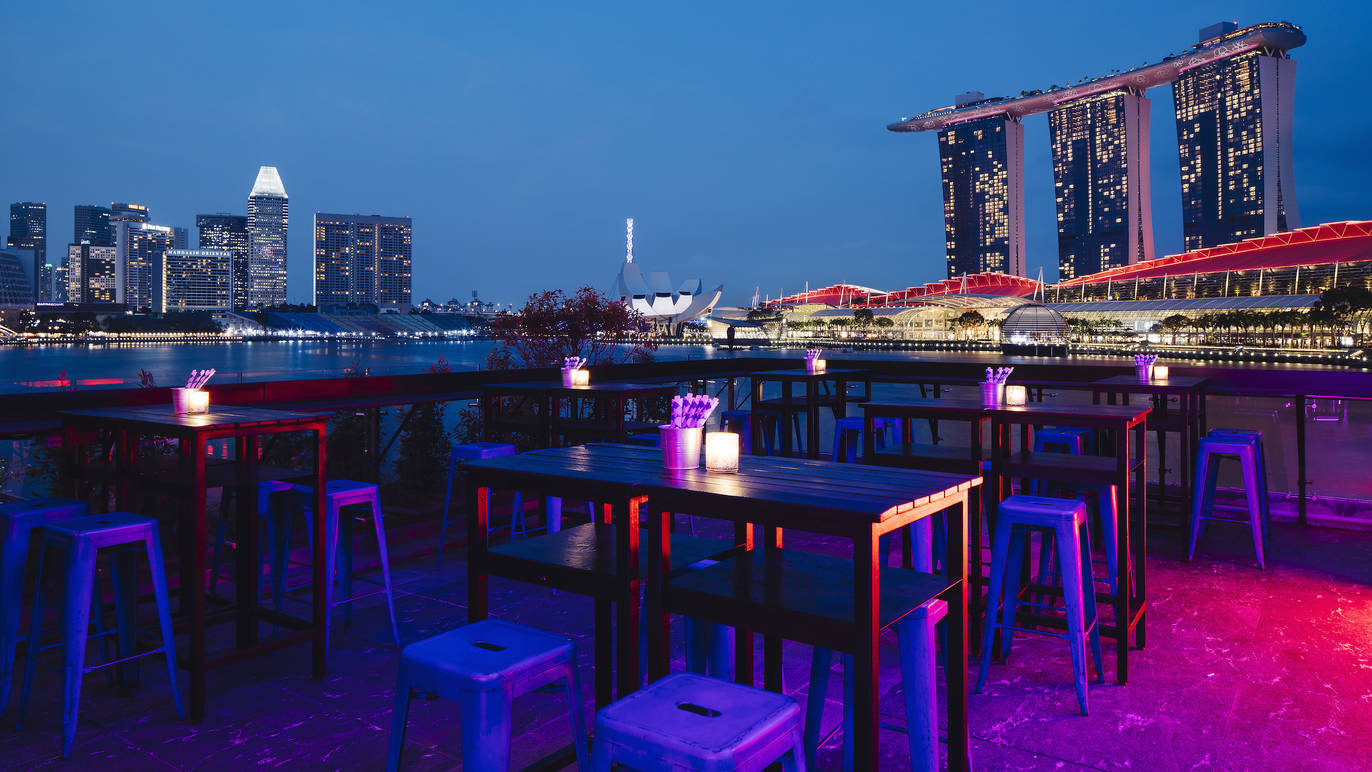 Credit: TimeOut
A contemporary Japanese bar located by the waterfront of Marina Bay means being treated to fantastic views over the water and you can even catch the nightly light show held at MBS.
Decorated with a quirky mural by Miami Ink's Chris Graver, Japanese lanterns and classic bar furniture, it's a great place to let your hair down after work, especially on a Friday night.
You can choose to dine in their indoor restaurant which serves delicious sushi or head up to the rooftop terrace for drinks with your colleagues. This rooftop bar in Singapore will not disappoint.
Credit: Loof
Located atop Odeon Towers and continually producing excellent concoctions for a pleasurable night, Loof proudly holds the status of Singapore's first standalone rooftop bar.
Although the OG of Singapore's rooftop bars has been overtaken by newer places on taller buildings, it hasn't yet lost its spot on our list of places to go for a good night out.
Try some of their locally inspired cocktails such as the 'Kopi Cat' and 'Kaya Lumpur' or enjoy a game of beer pong on a casual night out.
Credit: Smoke & Mirrors
Situated on top of the National Gallery Singapore, Smoke & Mirrors is an extremely trendy and elegant cocktail rooftop bar. 
The long terrace, which runs parallel to St Andrew's Rd below, provides panoramic views of The Padang, Esplanade Park, and Marina Bay.
The decor is contemporary, with comfy wicker furniture and a cool sculptural bar as the focal point.
You can order amazing and well-crafted cocktails, as well as a broad selection of good wines and delectable bar nibbles as you enjoy this picture-worthy rooftop bar.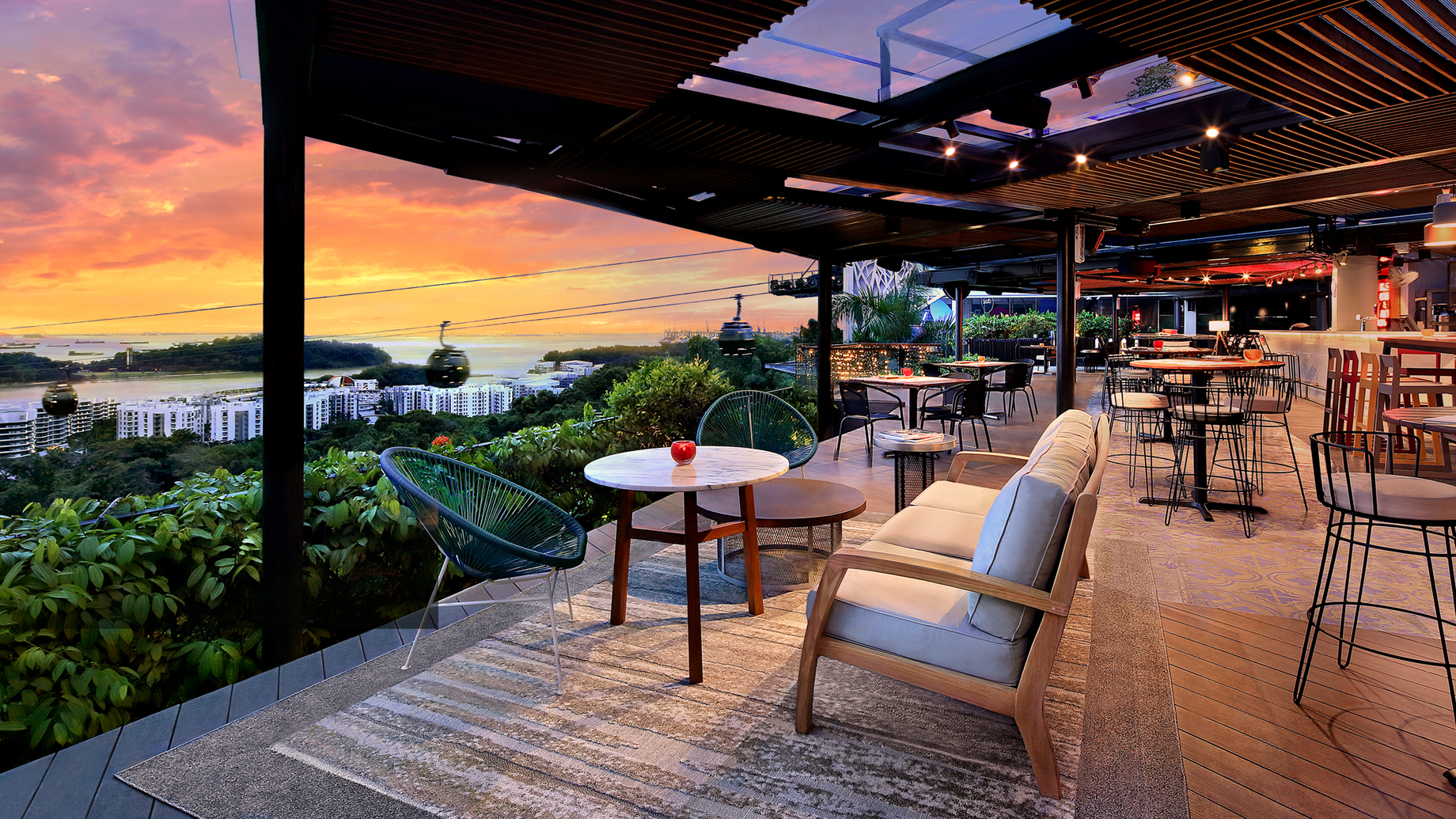 Credit: Sentosa
Swap the hustle and bustle of the city and views of the concrete jungle for the calm of the sea. 
The stunning skyline of Harbourfront and Sentosa never gets old, and Dusk Restaurant & Bar is the ideal spot to take it all in.
The drinks are as dramatic as the views — what with drinks like the smoking nitro margarita or the Nitro-frost caviar martini. Boasting one of the best sunset views in town, you don't want to miss out on a fine place like this.
Just as the name suggests, the best time to visit this amazing rooftop bar and dining is at dusk.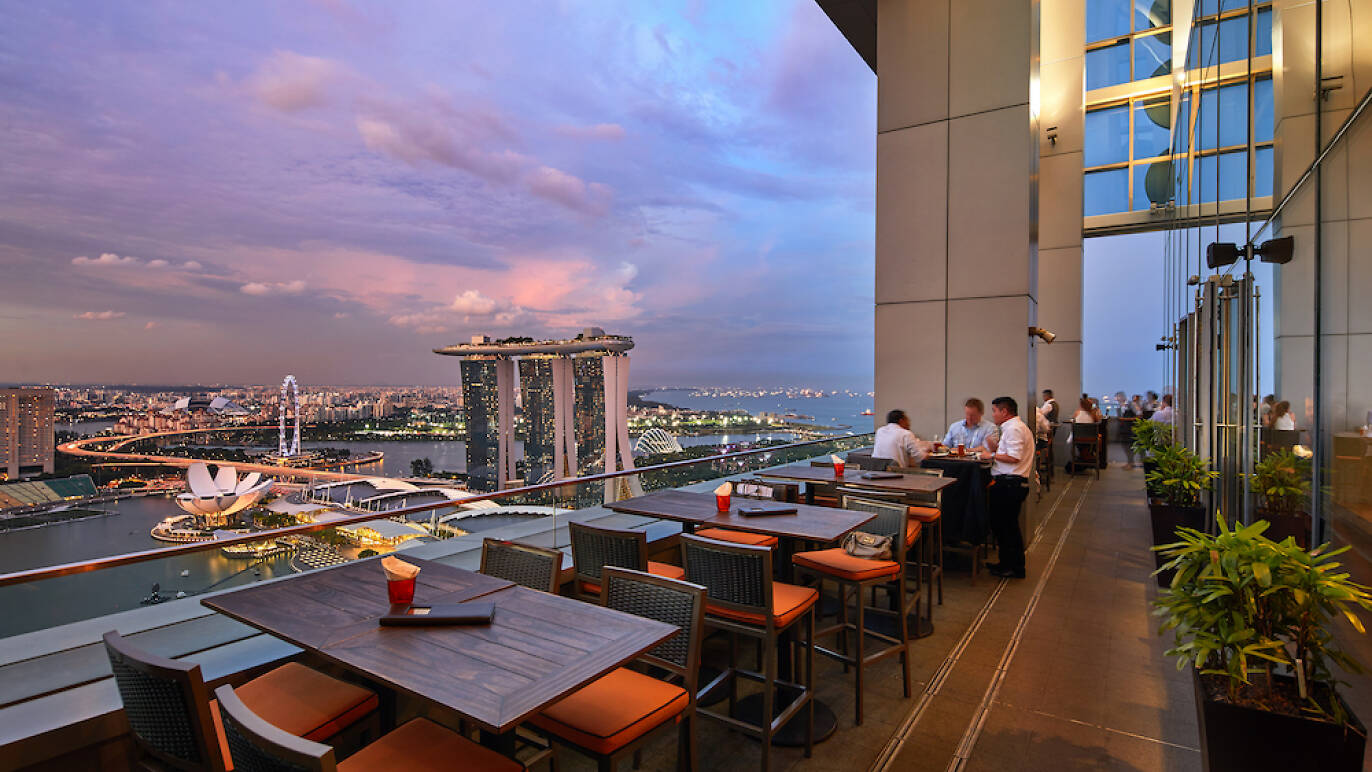 Credit: TimeOut
One does not simply pass up the opportunity to sit at the outdoor terrace at LeVeL33. This refreshed rooftop deck soars above the Central Business District, offering a spectacular view of the Marina Bay area.
LeVeL33 also has another unique selling point — it is the world's highest urban microbrewery. You know it's a pretty good deal when there are fresh beers on tap to complement the flavours of the wide array of delicious bar bites available at this rooftop bar in Singapore.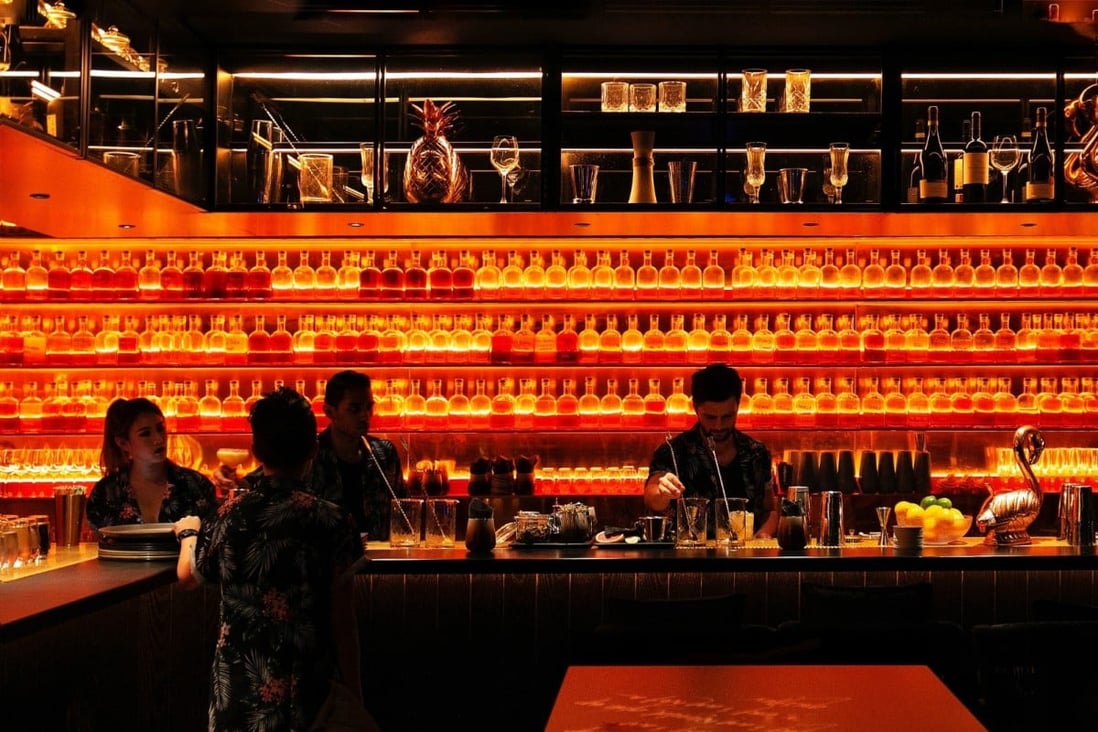 Credit: South China Morning Post
The Other Roof aims to elevate the standard for rooftop bars, much like how The Other Room did for speakeasies in Singapore. 
How you may ask? By bringing tea into your pub experience. This tea bar combines the worlds of tea and spirits by housing over 400 tea-infused spirits. 
Founder Dario Knox and bar manager Macarena Rotgers sourced tea leaves from all over the world to create their own blend of spirits infused with tea. Now that's pretty interesting.
Drop by for a sip by taking the elevator to the top of Ann Siang House and you'll be welcomed with a view of Chinatown and the surrounding Ann Siang neighbourhood.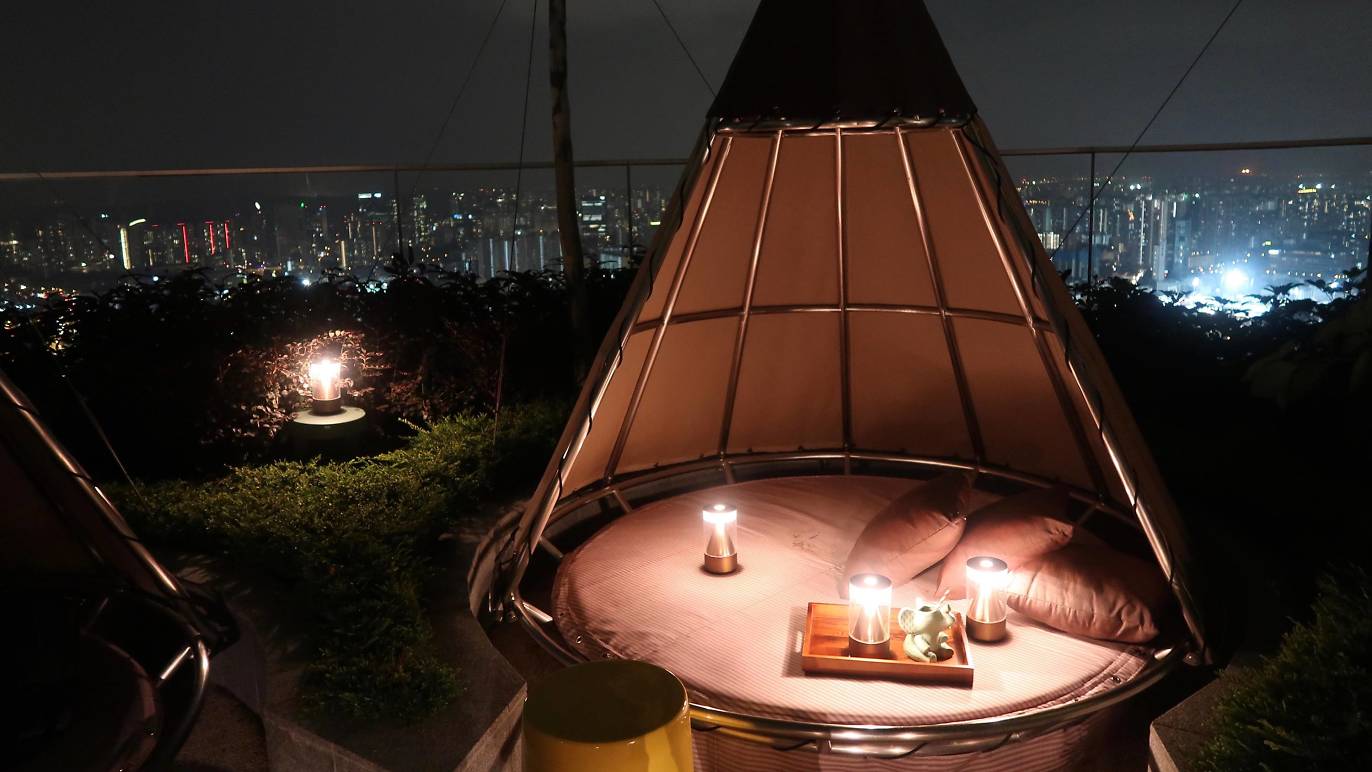 Credit: TimeOut
Mr Stork rooftop bar which is located on the 39th floor of Andaz Singapore is a garden-like urban refuge far above the city's noise and bustle. 
While the breathtaking 360-degree views will keep you occupied for a long time, you can also stroll along the circular terrace's cobblestone walks and seek refuge in one of the really cool-looking tepee houses.
The rooftop bar offers a fantastic selection of refreshing signature cocktails (we recommend Ruby—a citrusy concoction served in an incredibly Insta-worthy elephant mug), wines, their own Andaz Pale Ale, and a wonderful assortment of bar nibbles.
If you are looking for a great and relaxing ambience, this is the best rooftop bar to be.
Credit: Asia Bars & Restaurant
This elegant rooftop bar and dining is located in an ancient colonial historical building, just where the Singapore River meets Marina Bay. 
Add vodka-based signature cocktails, delicious bar bites, a sophisticated yet casual atmosphere complemented with great views over Marina Bay and the CBD skyline and it's the perfect spot to bring your date for a romantic night out.
Credit: LAVO
From 57 stories up on Marina Bay Sands, it's a great vantage point to take in the panorama of the Marina Bay region. The airy rooftop lounge offers postcard-worthy views of the Singapore River and Gardens by the Bay.
LAVO is a terrific venue for just about any occasion, with sleek and luxurious interior and outdoor seats, as well as a rooftop lounge and a restaurant that serves Italian-American cuisine and craft cocktails. 
While it's a pretty amazing rooftop bar and dining, it's been known to host a pretty good brunch party too. Add this to your must-visit list now!
Credit: Artemis
Artemis Grill & Sky Bar, located on the 40th level of the CapitalGreen building in downtown Singapore, is a sophisticated and elegant venue with a magnificent dining room and a cool and breezy outside terrace.
They're known for their refreshing G&Ts and gin-based cocktails, but that doesn't mean you can't order a craft beer or something else—their wine list is also quite impressive.
And when you arrive at this rooftop bar in Singapore, do check out the 100-year-old olive tree that's planted right smack in the middle of the bar.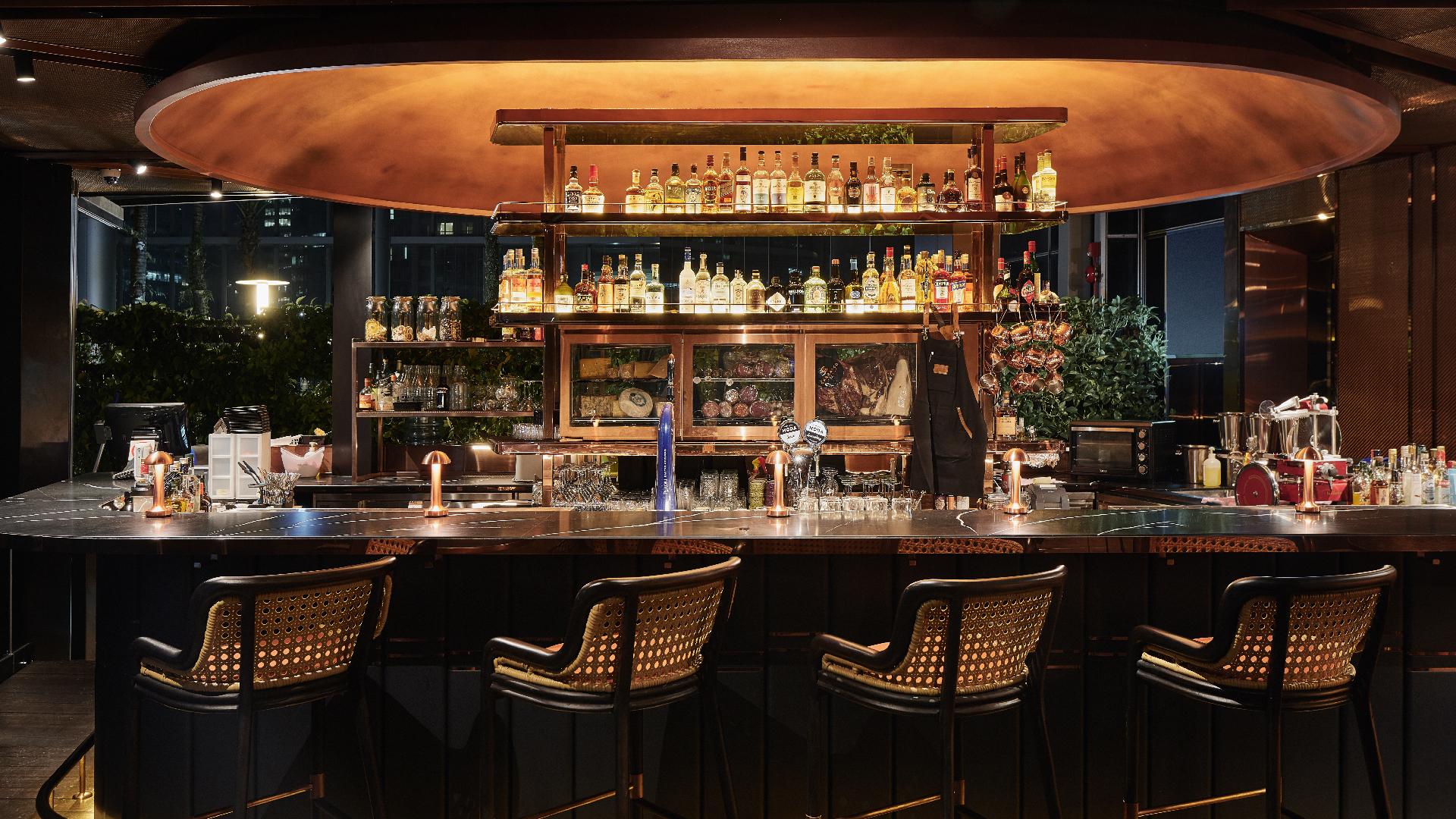 Credit: Vue
When a rooftop bar is named after the French translation of "view", you can already tell what it's famous for.
Enjoy amazing views of the Civic District from the 19th floor of OUE Bayfront through its floor to ceiling windows and pair it with vibrant spritz cocktails. Opt for a seat at the semi-alfresco spritz bar area to enjoy your drinks while admiring the scenery.
Credit: Asia-Bars
Get an unrivalled view of Singapore's cityscape when you drink and dine at Zafferano's sky-high perch in the heart of the CBD. We can't argue that it's one rooftop bar with an amazing view.
Enjoy a few cocktails while soaking up the last rays of sunlight of the day during golden hour on the 43rd level of the Ocean Financial Centre
The Terrace Lounge's alfresco area is also outfitted with a canopy of blooming tulip umbrellas that not only give shelter from the elements but also light up the night with lovely hues.
Credit: Grand Park Orchard
Bar Canary might not offer much of a view but this Grand Park Orchard's open-air, high-rise location still makes for a great rooftop bar.
The lovely garden location, as well as bright alfresco furnishings like lawn chairs and large bean bags, create a pleasant atmosphere where you can go to unwind with a drink in hand. 
When the night falls, Bar Canary is wonderfully lighted with fairy lights and the tall skyscrapers that stand defiantly against the darkness.
18) Braci
Credit: Braci
Braci is an elegant Italian hideaway located in the middle of the bustling Boat Quay. 
With a snug interior restaurant featuring modern Italian food located on the 5th floor as well as a modest but attractive rooftop bar on the 6th, it offers sweeping views of the Singapore River and skyline. 
Sip on one of their distinctive and well-crafted cocktails before hopping over to a club or just continue your night there with the relaxing night view.
Credit: 50 Best Discovery
Think cinematic views of the city and the straits as you wine and dine on the 57th floor of Marina Bay Sands. 
Spago isn't just a regular rooftop bar and dining place, it is a part of Wolfgang Puck Fine Dining Group which means the food and drinks are top-notch.
If you are looking for a place to celebrate a special occasion, you can't get better than doing it at Spago.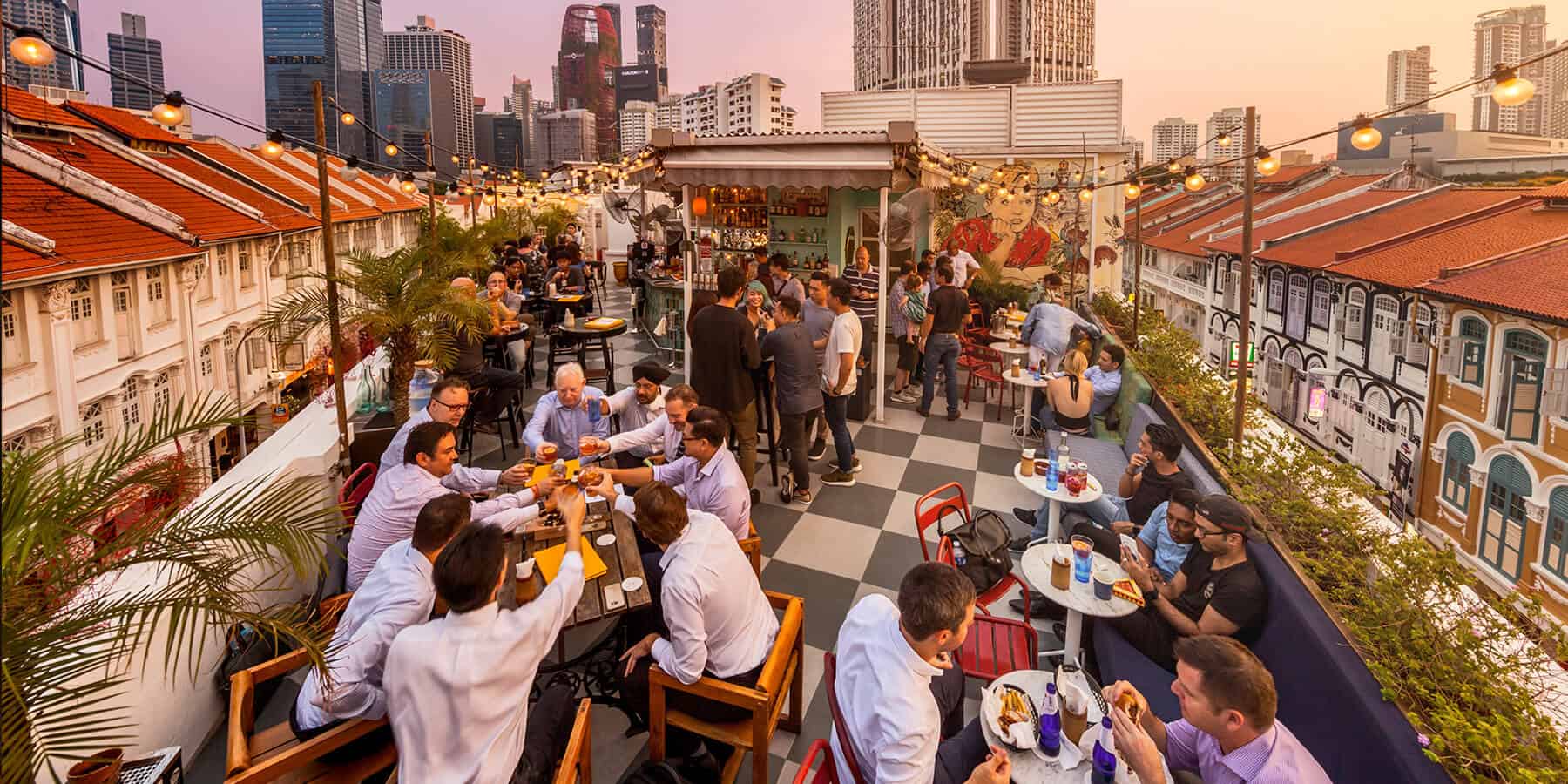 Credit: Chinatown Singapore
At Potato Head's lovely rooftop bar, you can take in the sights and sounds of Chinatown. 
The rooftop bar in Keong Saik also serves superb tiki cocktails while providing a taste of the tropics.
As you take in the vista of Singapore's skyline, sit back and relax among the fragrant herbs and exotic flora planted around the rooftop. It's a great rooftop bar in Singapore to chill with your friends on a no-frill weekend night. 
We hope you enjoyed this list of fun, amazing, and picture-worthy rooftop bars and dining that can be found in Singapore.
Whether you're going for a classy or casual, elegant or chill, a romantic date or hanging out with your friends, there is a rooftop bar for each occasion.
Let us know in the comments if you have other recommendations. 
And if you're looking for a companion to go to one (or all) of these gorgeous rooftop bars in Singapore, why not try your luck at Sugarbook?
But before you head out on a date with your potential sugar, take a read on how to sugar during this pandemic.