The recipe for sexual frustration is an easy one to cook up. 
Add one huge spoonful of 'living with your parents', followed by a sprinkle of 'small density area', several helpings of 'throngs of shoppers, Tiktok teens, and screaming families', and lest we forget a teaspoon of 'an irresistible partner with lips that are too attractive for their own good'. 
In fact, we hear it's the main ingredient.
It's no secret; the sacred art of making out is dying. After all, it's a tricky thing to get yourself into without the risk of being recognised by at least one busybody aunt. So what's a person got to do if they just want to exercise their god given right to suck face? 
If you like keeping your business to yourself (like we do) then you might wanna read on. Avoid the prying eyes of others with these great tips on safe spots to do the deed with your partner in crime. 
Without further ado, here are some ideal places to make out in Singapore!

1. Outside of the ArtScience Museum 
Source: Singapore ArtScience Museum | Iconic Landmark of Singapore – Tripily
There's nothing more romantic than stealing kisses after a visit to a museum! A key make out place in Singapore, the outside area of the ArtScience Museum is one to visit for you artsy fartsy couples. If you didn't want to alert the potentially judgy visitors inside, one thing we'd suggest is to take your orally stimulating activity outside instead. 
After all, you get to take in the view of Anish Kapoor's sculpture and the Singapore river as you two get busy. Tasteful, no? 


2. Changi Point Coastal Walk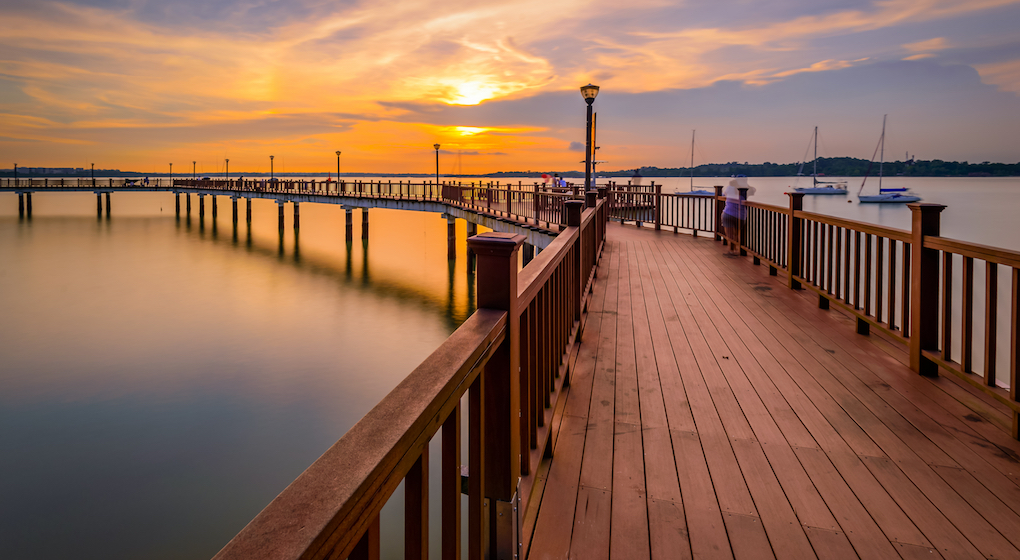 Source: Romantic Dating Ideas, Singapore | Mitsubishi Blog | Cycle & Carriage (cyclecarriage.com) 
A hidden gem of Changi, this makeout spot is made for you couples who are suckers for the cliches of romantic movies. Ditch your car and take a walk here instead! The wooden boardwalk around sunset might give you that little push you need to make a great declaration of love… or just get to it and lock tongues together. 
Both outcomes are equally romantic, at least according to us. What can we say: Changi Point Coastal Walk has been the ideal 'where to make out in Singapore' location for many success stories!


3. Fort Canning Park
Source: Premium Photo | Traveling at fort canning park in singapore (freepik.com) 
For all you park lovers, we couldn't miss out on this one. An ideal place to make out in Singapore, the lush greenery offers you shady trees to hide under and wooden benches to cuddle up against. After all, what's more romantic than a classic date in a park with the promise of a little something more? 
Looks like Fort Canning Park is the place to be with your boo. PS: make sure not to get tree sap in your hair though—we hear it might take a while to wash out… 


4. Shiseido Forest at Jewel Changi Airport
Source: Jewel Changi Airport welcomes the world from 17 April 2019 | CapitaLand
Singapore's pride is about to get a lot steamier! A prime makeout spot, the lush Shiseido Forest is perfect for emulating a romantic woodlands escape. Even though this Changi attraction may seem rather overrated, we'd argue otherwise. 
Isn't there just something about two people watching an indoor waterfall together as their arms slowly snake around each other? We say it's the tranquility that really adds to it. Time to see the magic of man-made nature work its charm, you'll be sharing a kiss before you know it.  


5. Orchard Central (Rooftop)
Source: 11 Instaworthy Places At Singapore's Orchard Road For A Mini-Photoshoot – TheSmartLocal Malaysia – Travel, Lifestyle, Culture & Language Guide
Sometimes we need a little pick-me-up after a tiring afternoon of shopping. Be it in the form of a cold sweet treat or a little something sweeter from your bae; we've got the place for you to be at. Escape the crowds and share some romantic moments together as a couple at the rooftops of Orchard Central.
This make out spot in Singapore is ideal as you can easily gain access to the location without using a car. Just nip on upstairs, find a discreet corner and if you time things just right… maybe you can even try out some new kissing techniques. 
This is naturally, before you eventually get caught by some scandalised person who will stumble upon your public loving. Our advice? Give them a show worth watching. 


6. Robertson Quay
Source: Guide to Robertson Quay: Where to eat, drink and chill | Honeycombers (thehoneycombers.com) 
Just finished date night but want to extend it a little bit longer? Say no more, Robertson Quay is the perfect location for a little snogging. It gets even better as it's a great place to make out in Singapore without a car!  
Just grab a couple of drinks from nearby marts, plop down on a bench and see where the romantic night takes you. The dark does funny things to people— don't be surprised if you find yourself wanting to take some risks for a little bit more.  


7. Tiong Bahru (Alley)
Source:Rainy night vibes in Tiong Bahru : singapore (reddit.com) 
If sneaking around is something that turns you on, we've got a great make out spot for you. The idea of an alley in Singapore may not sound particularly romantic— but let the magic of the night do the rest as you stroll through Tiong Bahru. 
Illuminated by streetlights, maze-like paths, and (best of all) away from crowds of people; you've got yourself a prime makeout spot to share with your boo. Let the dark bring out the devil in ya! 


8. Beachside at Siloso 
Source:  Pinterest
Ooh-la-la, nothing is more romantic than the beach date at sunset! When we think of places to makeout in Singapore, we cannot leave out the great seashores. Bask in the glory of golden hour with your partner at the shores of Siloso. 
Who needs a car with views like this? Share a blanket together and engage in a game of footsie… or more, depending on how early you get there. We personally love how quickly it gets dark, so maybe we'll leave that part to your imagination to figure out.  


9. Henderson Waves
Source: Henderson Waves, Singapore | Backpacking Malaysia
Perhaps a more well-known make out location in Singapore, the charm of Henderson Waves comes from its coziness and nostalgia. The overhead bridge makes for a perfect little spot for some PG-canoodling—trust us, we would know. You might wanna watch out for other people though… unless voyeurism is up your alley. 
Hey, we don't judge! 


10. Ferris Wheel at Marquee Singapore
Source: Neon Lights & Wow! Largest Nightclub「Marquee Singapore」Opens Up Next Week (12/04) At MBS! | GirlStyle Singapore
No car? No problem; jump into one at a Ferris wheel for a smooch with both a view and privacy! This make out spot in Singapore works for both the partygoers and romantics. 
If nightclubs are your thing, we'd suggest this for a quick escape for when the dancefloor gets a little too packed from the party people. This huge indoor, 8-armed Ferris wheel is not all that's wow-worthy; it also has a photobooth fitted in each car before making its descend down 3-storey slides to capture any romantic moments you'd like to immortalise. 
Take making out to the next level— literally—as this ideal spot ensures no one sneaking judgy glares. Watch the LED lights or take romantic couple shots of each other— unless you can think of other things you'd rather be doing together all alone like this. 


11. The Learning Forest
Source: Learning Forest Tour @ Singapore Botanic Gardens on 2nd and 4th Sat of every month (babyment.com)
This one's for you active lifestyle couples! While not quite a hiking date, the Learning Forest is the perfect middle ground that Singapore has to offer when it comes to ideal make out places. 
Walk on trails that link around ancient trees without breaking a sweat (let's keep that for when things get hotter later) and enjoy sharing a couple of pecks during this romantic getaway from the usual bustle of people. 
Plus, you're gonna need some fresh air with all that blood rushing to your head! 
And with that, we take our bow. We know you lovebirds just keep looking to try something new to spice up your relationship, so we suggest using this article as a personal checklist. Why not turn every weekend into a journey of exploring make out spots in Singapore without a car? 
We can think of less romantic things we've done on dates. As you commemorate each new spot with your love, we only ask you to thank us as you share this steamy moment together. 
For more tips on how to have fun while keeping it discreet, get the down low at Sugarbook today. After all, we know all about sneaking around without getting caught with your hand in the cookie jar. 
Have fun and stay safe, lovebirds.