After a whole year of being forced to stay indoors due to a raging pandemic outside, your boo is nagging for a date! Now that shops are beginning to open and life is beginning to return to (somewhat) normal, you are running out of excuses to continue living in your pyjamas.
Maybe it IS time to get out of the house, step up your dating game, and bring your boo-thang out on a date of a lifetime. Luckily, we've got you covered with a list of fun date ideas in Singapore so you can finally plan a date out together with your bae(s)! 
(Also, we don't know who needs to hear this, but don't forget to shave 😉)
1. Island hopping
Image Source: Marina Bay Sands Singapore
Exploring Singapore's surrounding offshore islands might just be the next best thing to cure your boo's wanderlust. For instance, plan a picnic trip to St. John's Island.
With pristine sandy beaches and remarkably clear-blue waters, it's hard to imagine you're just a few minutes away from Singapore's hustle and bustle. 
This date idea will also give bae an excuse to wear some of the new bikinis and new clothing they bought during lockdown. Don't forget to pack some chocolate covered strawberries and a bottle of wine to amp up the romance. 😏
2. Staycation

Image Source: Oasia Hotel Downtown
Staycations are among our favourite dating ideas in Singapore because it's like a mini getaway that truly rejuvenates the soul. Plus, Singapore has a bunch of staycation places for you to escape, from unique AirBnbs to beautifully designed hotels. 
But who's really paying attention to the decor anyways? Behind closed doors, you can do anything you like to each other. As long as it's consensual, be as sensual as you like and explore each other's fantasies 👅💦  
For the best and unique staycation places, check out:
Oasia Hotel Downtown

ParkRoyal on Beach Road

Ramada by Wyndham Singapore at Zhongshan Park
3. Pulau Ubin
Image Source: SheCodes
This date idea is for couples who want to get out of the city to spend time with nature and each other. 
Pulau Ubin is Singapore's second-largest offshore island. You'll need to take a short boat ride to get there, so you can already imagine there won't be many people around. It's like you have the whole island to yourself.
There might be other people exploring the island so if you want to be cheeky with each other, be sure to keep your eyes peeled! After all, who doesn't love the thrill of being caught? 
4. Take a hike

Image Source: PickYourTrail
No, we're not talking about an intense hike unless that's what you and your boo are into. 
Instead we're talking about a relaxing hike through lesser known, scenic routes such as Bukit Timah Hill, Kranji Marshes, Labrador Nature Reserve or the MacRitchie Reservoir. 
These routes are truly breathtaking, and also great for taking amazing Instagram pictures together! 📸 Let the surrounding nature titillate your senses and each other. 
5. Explore Haw Par Villa
Image Source: Visit Singapore
If your date enjoys dark, spooky, artsy stuff, then you must bring them to Haw Par Villa for a stroll. We guarantee that the multicolored monuments and illustrations are like nothing you've seen before! 
Think extremely large statues filled with vibrant colours that depict elements from Chinese mythology. You can also find some private spots here if you don't mind some PDA in front of the caricatures 🤭
6. Take a couple's pottery class
Image Source: Center Pottery
Pinch, coil, and mould a symbol of your love for one another with this calming activity. You can find couples pottery workshops offered by places like Arudio Studio where you can show off your finger skills (If you know, you know) 
Not only will you have a good time together, you will also go home with pieces to decorate your home. Plus, who knows? Maybe you'll make other couple friends too.
7. Singapore Wake Park
Image Source: Singapore Wake Park
Looking for an idea to get your date's heart and blood pressure up while longingly looking at you with her pupils dilated? 
There's no better way to get adrenaline pumping than cable-skiing at the Singapore Wake Park! Here, you and bae can pick up a skill together while staying cool wading in the lagoon between crashes.
Then, end the date with a meal and some drinks by the lagoon and don't forget to have some dessert after.
8. Bungy Jump at Sentosa
Image Source: One15 Marina
This date idea is for couples who want to take things to the next level, literally. There's no better way to get adrenaline pumping like jumping off a building and falling for 47m. This activity can be a good test to see who has the bigger balls in the relationship! 
9. Mega Adventure Park
Image Source: Sentosa
Bungy jumping not thrilling enough for your adventurous lover? 
Then the 36 obstacle course at Mega Adventure should definitely do the trick. The obstacle course is built among tree tops, which means you will both be suspended in the air like a real life Tarzan and Jane.
To top it all off, a 450m zip line awaits to end the adventure as you zip past a stunning view of Sentosa and into each other's arms.
10. Vespa tour along rustic Singapore lanes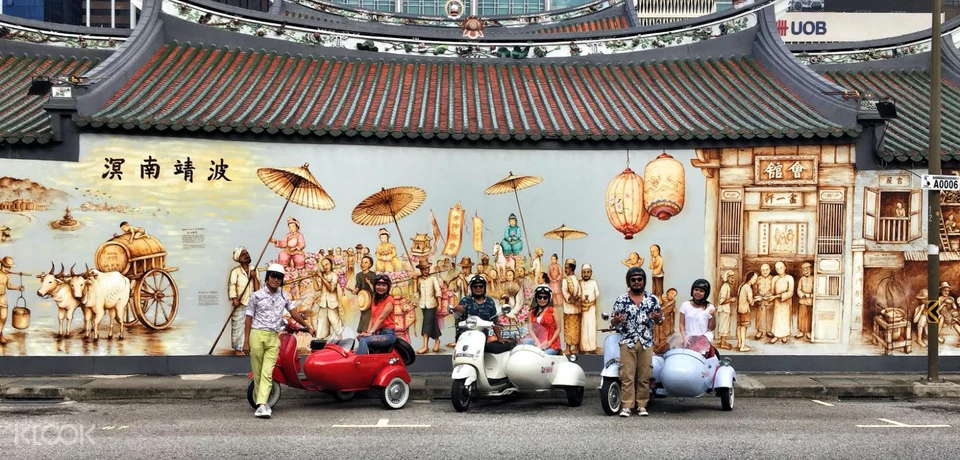 Image Source: Klook/Singapore Sidecars Heritage Tours
If your bae is complaining that their Instagram hasn't had much action lately, we have just the thing! 
How about a vintage vespa sidecar tour around some Instagram worthy spots while discovering some of Singapore's rich history? Breeze past rustic lanes on your vespas like you're on an Italian holiday.
The best part about this date idea is that you will be sticking to your bae all day. 
11. Wine and Dine and…
Image Source: Social Innovation Park
Of course, no list of dating ideas in Singapore can go without food because there's just so many options to choose from when it comes to great cafes, bars, and restaurants. 
One hip place that also guarantees good food, good vibes, and a great view is the Social Entrepreneurship and Ecopark Development's container restaurants or SEED.
If you've been to London's iconic Boxpark, SEED offers the kind of similar, positive atmosphere that will guarantee you and your date a good time. 
Romantic restaurants in Singapore you should check out:
Dusk Restaurant & Bar

Publico Ristorante

The Dragon Chamber
12. Dining in the Dark
Image Source: Suitcase Stories
Is your date more of a night person? 
Then we suggest taking her to NOX Dine in the Dark! Your date would feel right at home in the darkness while getting their taste buds aroused (among other things).
You've probably heard of this date idea before, but we just have to mention this restaurant that has been achieving TripAdvisor's Certificate of Excellence for the past five years and counting, so you know there's good food involved. 
13. Sunset dinner cruise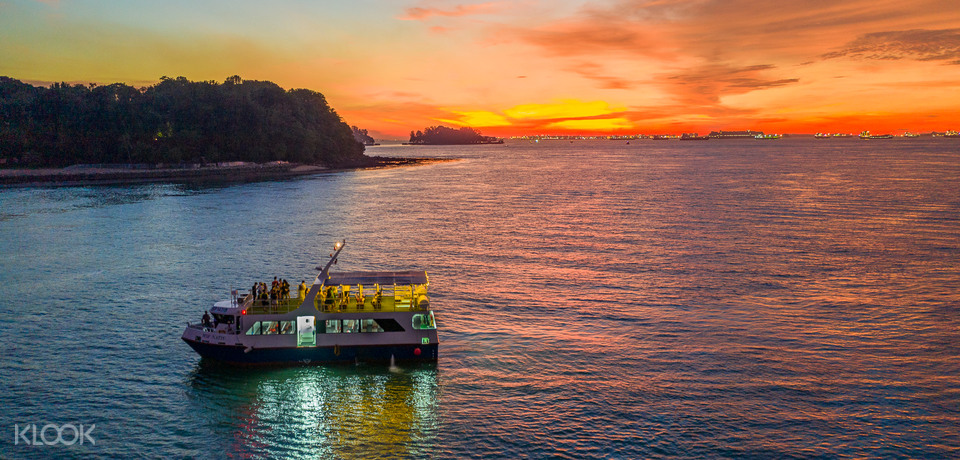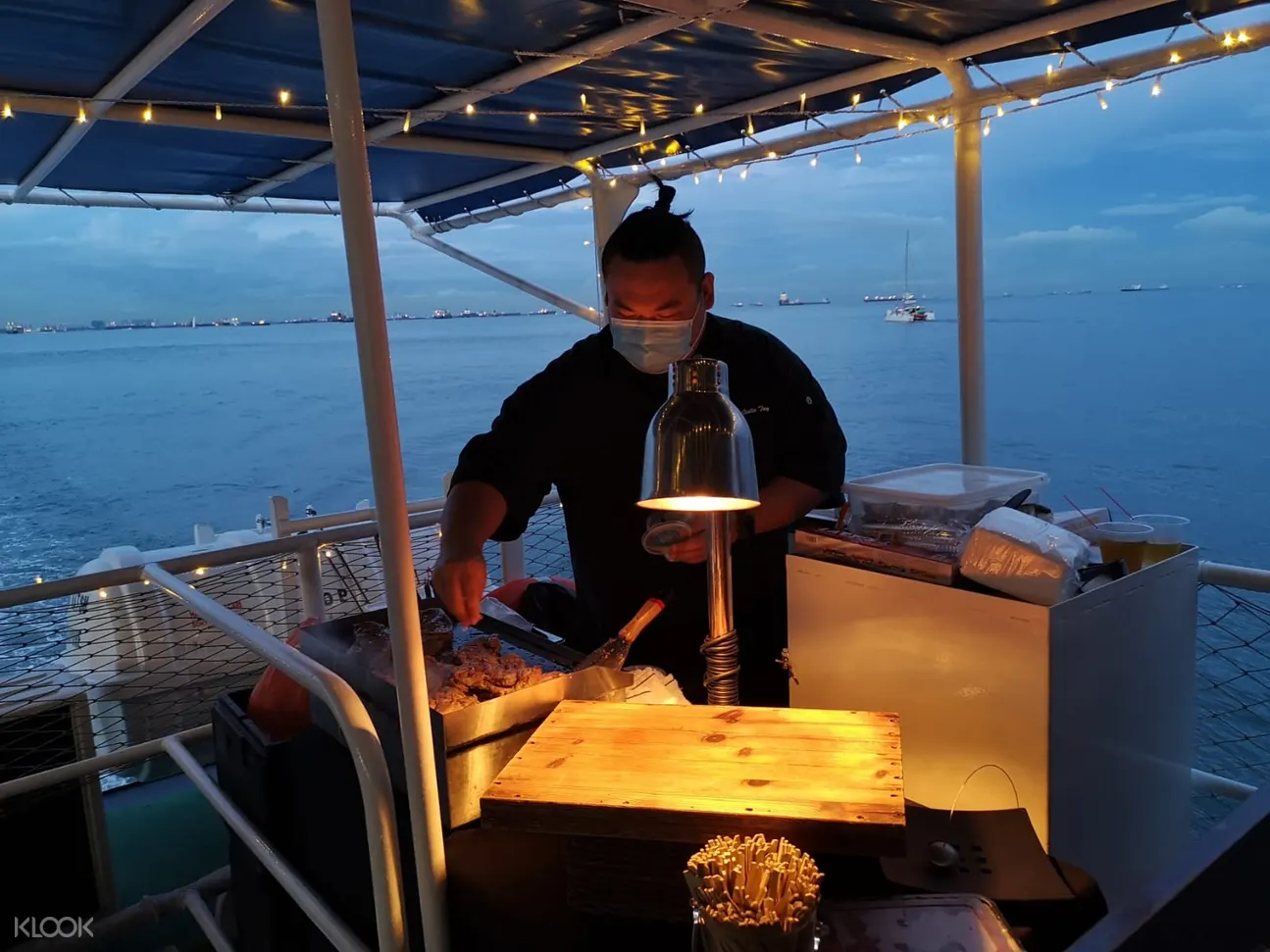 Image Source: Klook
If you haven't taken your date to a sunset dinner cruise on board the Singapore Southern Straits, you'll probably be getting hints soon. 
So before that happens, be sure to be one step ahead and take them on this perfect, luxurious date that blends good food and a killer sunset. 
Let's also not forget views of the phenomenal Marina Bay skyline.
As you cruise along this date, your dinner will be prepared by a chef who will serve it one course at a time. All you have to do is unwind, relax, eat, and get drunk with each other into the sunset. Just make sure you're sober enough to get each other home and continue the night. 
14. Go on a mini-golf date
Image Source: CapitaLand
If pop culture is your thing, then the Holey Moley mini-golf course should be at the top of your list of things to do with bae. 
Each whimsical course is designed with iconic references like The Simpsons, Game of Thrones, and Pac-Man. And… Holey Moley is that Godzilla attacking Marina Bay Sands?!
It's okay if neither you or your date has golfing experience because this mini-golf course is designed to tickle all your senses. Don't forget to get cocktails and a good grub after your game!
15. Glamping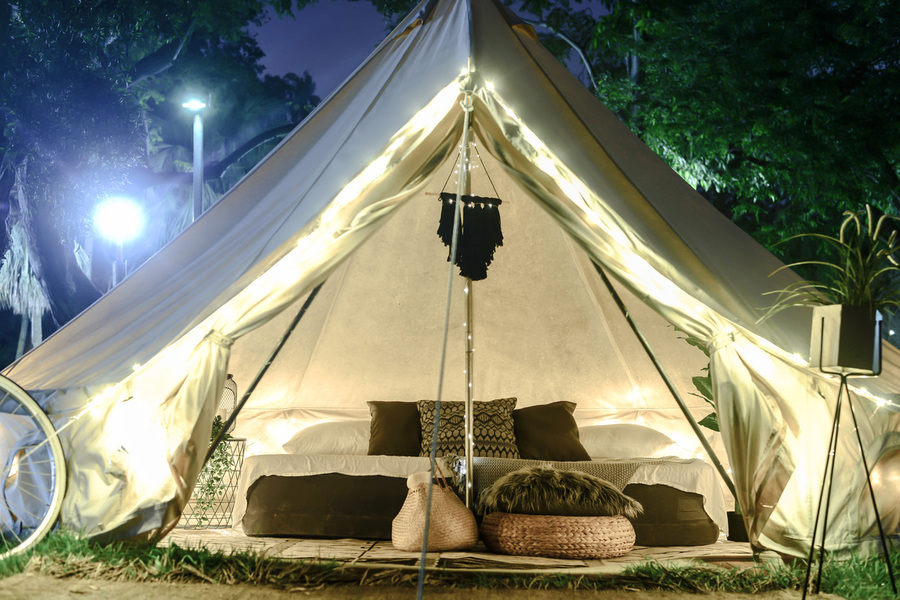 Image Source: Asiastyle.asia
Camping? In Singapore? Sounds like a recipe for disaster with all the bugs and there's so much to prepare! 
Luckily, Glamping Society has got you covered to amp up your night under the stars, and you don't even have to lift a finger! 
Forget dull coloured tents and sleeping bags, instead, your King/Queen will be getting a pop-up glam camp filled with comfortable poufs and pillows, blankets, decorated with dreamy fairy lights and metallic balloons. 
You will also get a picnic basket filled with 'sexy' food like fresh strawberries, cakes, sandwiches, and of course chilled sparkling wine to sip through the night. We don't know about you, but this sure sounds like a recipe for a good night under the stars. 
As soon as bae gives you THE look, just zip up your tent and escape into the night with each other. And unless you want people coming to bother you, make sure you (try) and be as silent as possible.
16. The Pinnacle@Duxton
Image Source: Architecture Lab
The Pinnacle@Duxton is one of the fanciest apartment buildings in the entire Singapore. Anyone can enter with a $6 per pax fee to relax at their beautifully designed public spaces all the way up on the 50th floor. 
The attraction here is an amazing 360 degrees panoramic view of Singapore. This spot is great to escape to have some privacy with each other if you're in the surrounding area. Great to escape for a quick makeout session!
It's 2021 and after spending the whole of last year at home, it's time to give your TVs and couches a break and go on a Sugarbook date! 
Do yourself and someone else a favour so that together you can put the shitty year behind and start making new memories. 
We suggest starting at the top of this list of unique, fun, and romantic dating ideas in Singapore. You'll never run out of ideas to woo your boo!