Would you look at how time flies! If it's your anniversary and you're fumbling realising that all those late nights slogging at work meant you couldn't do your usual runs around Orchard, we've got you covered. 
Anniversaries are a big deal; it's a true mark of a celebration in a relationship. Here are our top 10 best anniversary gifts to surprise your man candy with. 
10 Anniversary Gifts To Get Him In Singapore
1) Scented Candles 
What seems like a simple gift goes a long way, especially if you hint that they'd set the mood just right in the bedroom. Scented candles are a great gift for men as most stores such as Tom Ford feature plenty of male-centric scents for you to choose from. 
Scented candles are a great anniversary gift as your boyfriend can burn them even when you're not around, and with the magic of olfactory sense, he will associate you with the scent and think of you whenever he burns the candle. Pretty romantic, eh? 
2) Cologne 
If you'd want that dream scent to linger a little longer than what a candle can provide, take it up a notch by getting him a bottle of cologne. We'd personally suggest the ever-sexy Versace Eros— giving your man the passionate scent of fresh mint leaves, Italian lemon zest, and green apple. If that sounds delicious, trust us, you'll be licking him up in no time. 
3) Chocolate and Champagne
When he surprises you with flowers, you can return the favour by getting him something sweet and bubbly instead. This gift idea works for boyfriends who are excited about their first anniversary together as it isn't too much but still carries a meaningful message of how much you appreciate each other.
4) Matching Magnetic Bracelets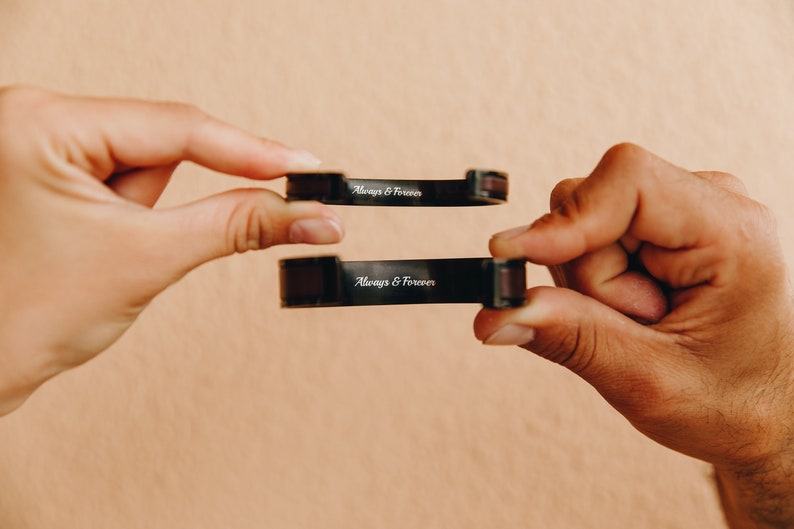 Source: Etsy
So you two are ready to take your relationship to the next level, eh? Say no more and hop on the new craze that's taking over Singapore— matching magnetic couple bracelets. This anniversary gift is perfect for men who just love parading their love for you, and what better way to do that other than taking a stroll with your hands literally attached to each other?
5) Engraved Golf Tee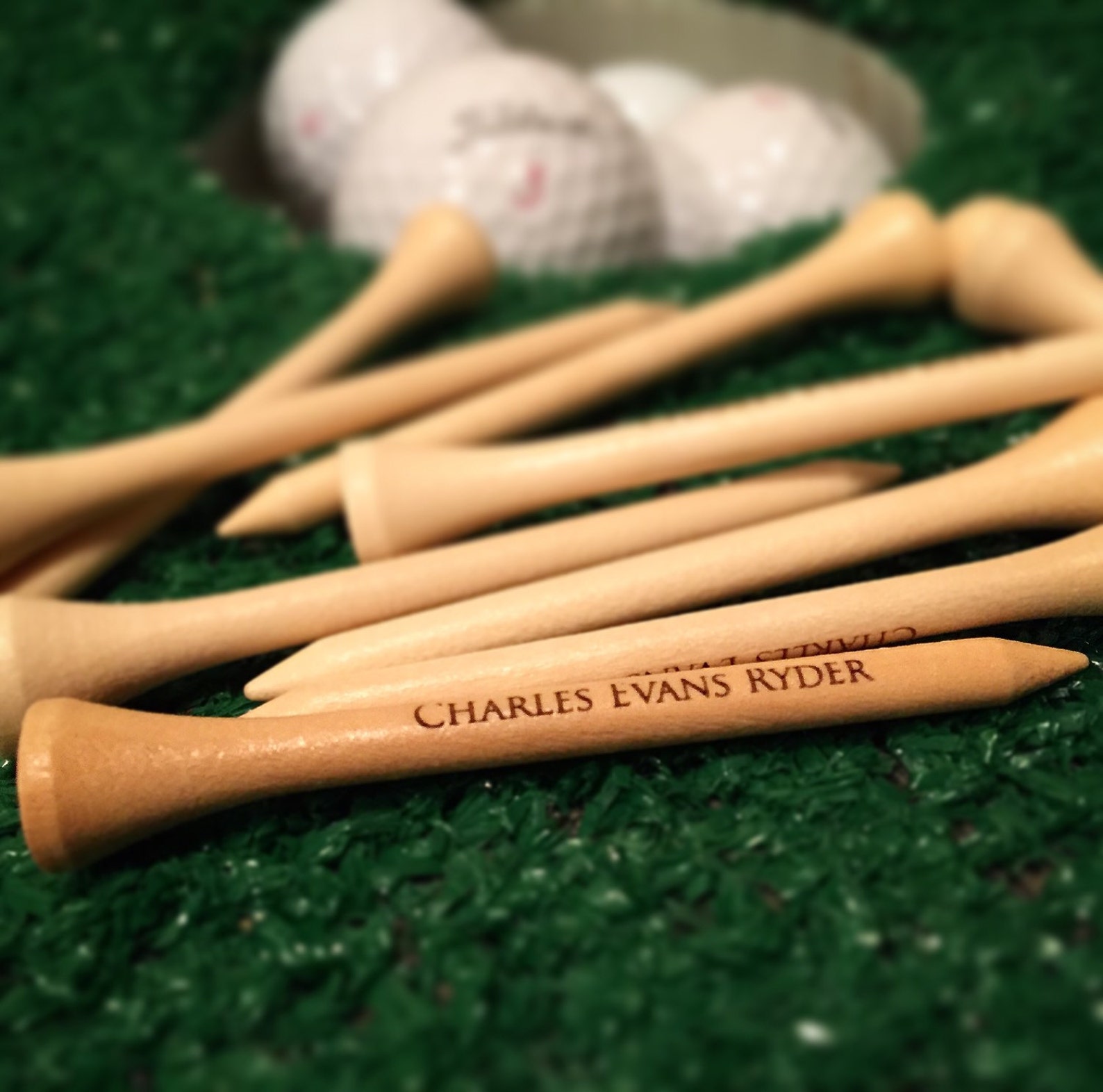 Source: Etsy
For the couples who have been together for a good while now, another anniversary comes along and anxiety begins to creep in— what now? You've spent so long of your life together, haven't you given your partner all he's wanted already? Well, in that case, we'd suggest that the best gift idea for him may be an engraved golf tee! It's time to get your man back out there on the green, now with something that he'll think of you as he's putting it (pun intended) out there!
6) Pairing Silver Plated Couple's Ring
For those in their third and fourth years of their anniversary, you might want to try this anniversary gift for him. Jewelry has always been a good option for commemorating annual celebrations such as anniversaries, so why not go for couple rings? We'd suggest a pairing silver plated one, 
7) Personalised Anniversary Night Light
Source: Aliexpress
When it comes to anniversary gifts for men, there's nothing wrong with cheesing it up a little! For all you know, he might find it great. Remind your boyfriend how much you appreciate him this anniversary with a personalised anniversary night light, where you can even have a caricature of the both of you together— or perhaps a personalised quote or inside joke that you share. 
The best thing about this gift idea is how wacky it is, which is definitely going to earn you some points in his book. It's also something that will be kept in the bedroom, so you might want to keep that in mind when you're racking your brain for ideas. Our suggestion? Go all the way 😉 
8) Couple Fuzzy Socks Set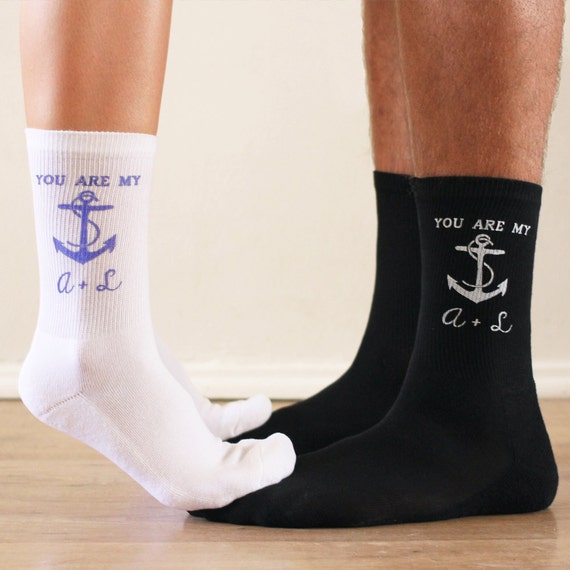 Source: Etsy
When thinking about gift ideas for your boyfriend, does the word comfort come to mind? If your man is someone who is a homebody or an aesthetically pleasing "soff boi", he might appreciate you getting him some funky socks. 
Commemorate your anniversary together by getting a couples set of fuzzy socks, where you can get each other's initials stitched into your socks or your anniversary date. Think of these as little secrets to each other, ones that no one else except you two will know how significant this little design addition is to your comfy attire. 
9) Anniversary Scrapbook 
So you want to go all out for him, but you're broke. Rest assured, the best gifts don't actually require breaking the bank. It's time to go old school and bust out the craft scissors as we're crafting for your anniversary gift this time. 
As men don't typically receive heartfelt compliments and messages on the daily, compiling all of your time spent together and how you feel about him in a handmade scrapbook might make for the best gift idea for him. An honest expression from the heart (and in this case, your bare hands) will show your love and appreciation for your boyfriend that the best things in life don't have a price tag. 
10) Candlelit Dinner At Home
Last but not least, you cannot go wrong with the classic romantic candlelit dinner at home. The best gift idea you can give your boyfriend is by surprising him with his favourite 3 course meals, prepared by yours truly. 
The best part about this anniversary gift is that it can combine a few others, such as the scented candles to add to the romantic ambience as well as the champagne to toast over as you both tuck into your scrumptious feast. 
With that, we hope that this list has helped you declutter the panicked state your mind ran into. If any of these tips managed to save your anniversary gift, why not pop over to Sugarbook, sign in to your account, and keep an eye out for future articles from us? We promise we only get better with each one. 
Till the next time, lovebirds.