Being one of the largest cities in the world, New York City is where you'll have the chance to experience the most stunning and extravagant sugar dating spots. The City that never sleeps is a huge playground with lots to do, appealing to all kinds of wealthy sugar daddies and extraordinary sugar babies alike.
Since having too many choices can be overwhelming, we're helping you out by listing our top 10 sugar dating spots in the Big Apple that you should definitely check out. 
If you're new to the scene, here's a little bit about sugar dating for Sugar Babies & Sugar Daddy in New York.New York City's sugar bowl is filled to the brim – there's no shortage of sugar babies nor sugar daddies and mommies whether you're in Manhattan or Queens. 
What this means is there is tons of sugar to go around!From young entrepreneurs to out-of-towners who are looking for some company while they're in town for business, there's something for everyone. 
No matter what your tastes are, get onto Sugarbook to find the sugar partner of your dreams and make sure to check out our list below for amazing date ideas.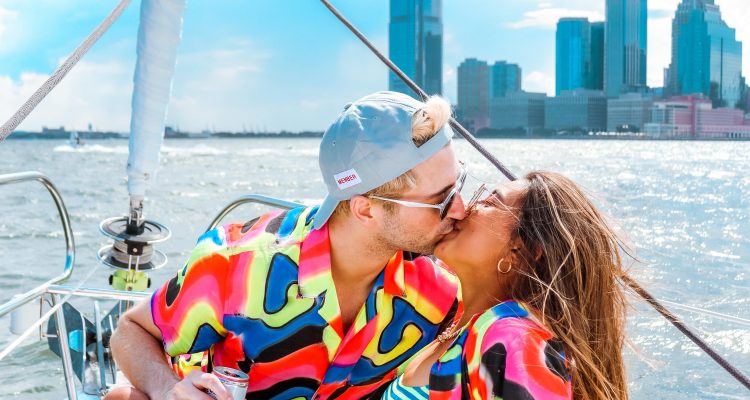 Sugar dating spots in NY
Sugar dates are all about exclusivity and luxury so think classy spots like Bemelmans Bar at The Carlyle Hotel for some killer cocktail classics. Upon walking in, you will feel like you've been transported to another era, and the gold leaf coated ceiling will leave you at a loss for words. 
Settle down with your sugar partner into the supple brown leather booths for some privacy as you get to know each other. The venue also features talented live performers who will give you something to talk about even months later!
The High Line is a unique and charming public park built on an elevated railroad track that runs through the Meatpacking District and Chelsea neighborhoods of Manhattan. Here is where you'll get breathtaking views of the Hudson River and the city skyline, making it an ideal location for a romantic stroll. 
The park is home to a variety of art installations and gardens so you'll have lots to take in while you enjoy a leisurely walk or a picnic. There are also several great dining options nearby, including some with rooftop views. With its relaxing atmosphere and scenic views, The High Line is a beautiful spot for a casual yet memorable date.
Another famous hotel that's frequented by New York's elite is The Plaza Hotel. It's the perfect place to go for a sugar date that will make a lasting impression, with its beautifully adorned rooms, world-class dining, and luxurious spa facilities offering a range of indulgent treatments fit for a King or Queen.
A sugar date at The Plaza Hotel is the perfect way to escape the hustle and bustle of the city and just hide-out with your sugar partner while you rejuvenate. 
Le Bernardin is a must-visit restaurant if your mission is to impress your sugar partner, especially if they're a foodie. Located in Midtown Manhatton, the three-Michelin-starred restaurant has a stunning atmosphere that's modern and sophisticated.
Sip on the finest wines from across the globe and sample their exceptional selection of seafood dishes expertly crafted by Chef Eric Ripert and his team. Le Bernardin is ideal for a dining experience that's both luxurious and intimate, the perfect choice for a romantic sugar date. 
If you're looking for a date that's lavish yet relaxing and rejuvenating at the same time, book a spa day at the QCNY Spa! You and your date will be spoiled from head to toe with a range of treatments, from massages, to body scrubs and facials, plus amazing amenities such as the saunas, hot tubs, and steam rooms to melt the stress away. 
It's the perfect way to unwind while spending quality time together. Check out the spa's couple packages to enjoy extra privacy in your own rooms. Worked up an appetite from all that relaxing? End the date with a delicious meal in the nearby restaurants, then head for a leisurely stroll to end the date!
Another three-Michelin-starred restaurant, Eleven Madison Park is located in the heart of Manhattan's Flatiron District. It offers guests a unique dining experience that focuses on the intersection of food, art, and storytelling. The restaurant's seasonal menu is inspired by New York City's rich culinary history and features dishes that showcase local and sustainable ingredients. 
With the restaurant's opulent art decor, out-of-this-world cuisine, and impeccable service, you'll surely be back here again soon. 
Nothing screams exclusive and intimate like drinks at an upscale rooftop lounge. Sitting on the 21st floor of the Peninsula Hotel, Salon De Ning is where you go to hide away from the usual hurley burly of people and sounds. 
Located in the middle of Midtown Manhattan, the lounge is famous for its delicious world-class cocktails and spectacular panoramic views of the New York City skyline. For an even more private affair, consider booking a private igloo for a romantic night under the stars. 
Located in the Time Warner Center, the Michelin-starred Per Se is a must-visit restaurant for foodies everywhere. If you're looking for a romantic dinner spot for a luxurious dining experience, this is the place to go.
The restaurant serves a daily changing prix fixe menu with dishes made from the best seasonal ingredients. At this restaurant, you and your date can dine on a multi-course meal while taking in the breathtaking panoramic views of Central Park and Columbus Circle.
9. Private helicopter tour of NYC 
If you're looking for a truly luxurious, unique, and unforgettable date experience in New York City, a private helicopter tour is a fantastic option. You and your date can take in the stunning views of the city from above, soaring over landmarks like the Statue of Liberty and the Empire State Building. 
Choose from a range of tour options, including sunset tours or tours that take you over specific neighborhoods or attractions. Many tour companies offer the option of a private helicopter, which means you'll have the entire helicopter to yourselves, allowing for an intimate and romantic experience. 
10. Private yacht charter
If you prefer a laid-back date idea that's still lavish and extravagant, a private yacht charter is an excellent choice. A cruise around the city's waterways, champagne in hand, is a great way to see some of NYC's iconic landmarks from a different angle while having relaxing conversations with your sugar partner. 
Private chefs and bartenders are often available as add-ons to yacht charters, so you can dine in style while taking in the sights. For a one-of-a-kind vacation, some cruise lines even offer jazz or wine-tasting cruises. 
For a more cultural experience, book A broadway show date with VIP treatment! Many theaters offer customized VIP packages where you'll get a bunch of perks such as skipping the lines, having the best seats in the house, getting backstage passes to meet the cast, access to exclusive lounges, free drinks, and more. 
Seeing a Broadway show is a quintessential New York experience, and with VIP treatment, you can take it to the next level.
A visit to the Metropolitan Museum of Art is a romantic and intellectually stimulating date idea that is sure to impress. A must-do especially if you're in town for a short trip, The museum is home to an enormous collection of art and artifacts from around the world, spanning thousands of years of human history. 
Explore the museum's many galleries, admiring works by famous artists such as Vincent van Gogh and Rembrandt. The Met is also home to a variety of special exhibitions throughout the year, offering unique and exciting experiences for art lovers. 
For a breathtaking view of the city, a trip to the One World Observatory is a must. Located on the 100th, 101st, and 102nd floors of the One World Trade Center building, the observatory offers a stunning panoramic view of New York City. 
Take in the breathtaking views of the skyline and landmarks such as the Statue of Liberty, the Brooklyn Bridge, and Central Park. The One World Observatory also hosts a variety of exhibits and multimedia presentations, which provide a fascinating insight into the history and culture of the city. 
No matter what you fancy doing, New York City has something to offer for every type of sugar baby or sugar daddy/mommy. Our picks above are some of the best sugar baby dating spots in New York City, whether you're looking for a romantic stroll, a cultural experience, or a luxurious day/night out. So take your sugar partner to one of these spots and enjoy a memorable experience together.