Whether you're a bisexual, lesbian or simply curious about the whole LGBTQ+ community, finding the best lesbian dating apps or sites for lesbian dating can be pretty daunting. 
Luckily, the lesbian community aren't being kept in the dark. Long gone are the days where dating apps focus only on opposite gender relationships. 
Now, we can see many lesbian dating apps made especially for women to indulge in their fantasies and meet wonderful life companions. 
If you're not sure which apps to go for, we compiled a list of the top 7 lesbian dating apps below: 


7 Lesbian Dating Apps in SG


1) Her
Source: pride.com
Her is probably one of the more popular lesbian dating app among the lesbian community all around the world. But Her isn't just for lesbian dating, it's also for the rest of the LGBTQ females in the community. 
It doesn't cost you a dime to use this lesbian dating app because it's free! There's a paid option too if you need to swipe on more gals since the free version comes with a maximum cap on how many swipes you could use. 
Unlike most dating apps, Her is more of a lesbian dating app with a combination of social media. What we mean by this is that it offers a community where all the ladies are able to see what's up with each other's lives through daily updates. 
Miss a hottie after accidentally swiping left? Calm your horses, because Her allows all the users to rewind profiles! 
The only major downside about this lesbian dating app is that it's only available as an app, so there isn't a website version. However, that shouldn't be a problem as we are living in the 21st century where everyone is glued to their smartphones. 
Download on iOS | Download on Android 


2) Zoe
Source: uplabs.com
Another well-loved lesbian dating app would be none other than Zoe. The team over at Zoe takes pride in being "the world's best-ranked dating app for queer women" plastered on their main website. 
The plus side of Zoe is that they actually screen through all your profile pictures and reject the ones that don't meet their standards such as a full view of your face. So you wouldn't have to crack your head trying to see past a pretty lady whose face is half-covered with stylish sunglasses. 
If you have some spare cash and opt for a paid membership, one bonus feature of Zoe is that you could check your compatibility against all the potential ladies by taking a good look at their profile and personality questionnaire.  
But like every other lesbian dating app, there is a catch. The lack of verification methods makes it easy for scammers or bots to go ahead and create a fake account on Zoe. 
Thankfully, Zoe offers a cute little shiny checkmark on verified accounts, so if you wanna save yourself from talking to some bot, be sure to look out for the checkmark. 
Download on iOS | Download on Android 


3) Fem Dating
Source: freedatingapps.org
Compared to other lesbian dating apps, what makes Fem stands out from the crowd is how users are able to upload videos on top of the usual pictures too! 
What a way to gain attention to your future boo by showing off your charming personality through videos, eh? 
Furthermore, this lesbian dating app does it differently by offering a public chat room for ladies from all walks of life to chat in one single place. Save the hassle of hitting up one by one! 
And of course, there is a con that may turn your heads away. When it comes to a free membership, Fem requires users to either rate Fem or upload one video to gain a free membership. 
If that doesn't sound too troublesome for you, that's great! But honestly, in comparison with other lesbian dating apps like Her or Zoe which allows you to sign up for free in just a matter of a few minutes, you might want to think twice about Fem (only if you'd prefer not to spend some moolah on an app).  
4) Feeld
Source: feeld.co
Though this isn't an app made specifically for singles who are lesbian or queer, it does however have a whopping amount of 20+ gender or sexual identities to choose from upon signing up!
Feeld also provides a way to specify the kind of profiles you'd prefer to see, hence, it makes the perfect lesbian dating app by allowing you to gawk only at female profiles. 
Here's a fun fact though: Feeld is the ultimate dating app for non-monogamous sex, and yes, that means threesomes, hook-ups or whatever your kinky fantasies are. But many others use this app to find real relationships too! 
Keep in mind, this lesbian dating app isn't for the closed-minded. Before you hit that sign up button, be sure to have an open mind and discover the world of endless opportunities in the lesbian world!
Download on iOS | Download on Android 


5) LesPark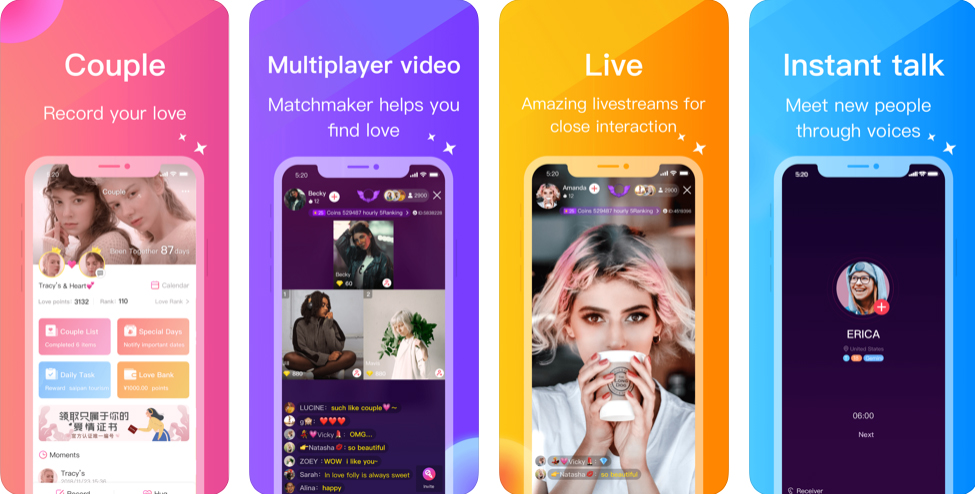 [
Source: fiftyshadesofgrey.co.in
For many queer women in Asia, LesPark is like a special gift sent down from heaven. For the uninitiated, LesPark became the ideal lesbian dating app for women all over Asia.
You won't just be starting conversations online with lesbian women, you'll also be able to use the app much like social media where you could post updates of your daily life. 
Hold a live stream for other women to engage with you just like on a normal social media app or simply look out for queer events to join around your area. 
Thanks to their convenient app features which are the 'Nearby' and 'Follow', you don't have to look for your boo who's far away. 
Another really cool feature of LesPark is how you'll be able to show off your relationship by sharing your love story with all your followers! It shows how long you two have been together, a dedicated calendar to note down important dates, and many more. 
With LesPark, lesbian influencers are able to apply for the LesPark Partners program to have a public LesPark ID! Followers are able to interact and view all of their posts with no restrictions. 
Download on iOS | Download on Android 


6) Wapa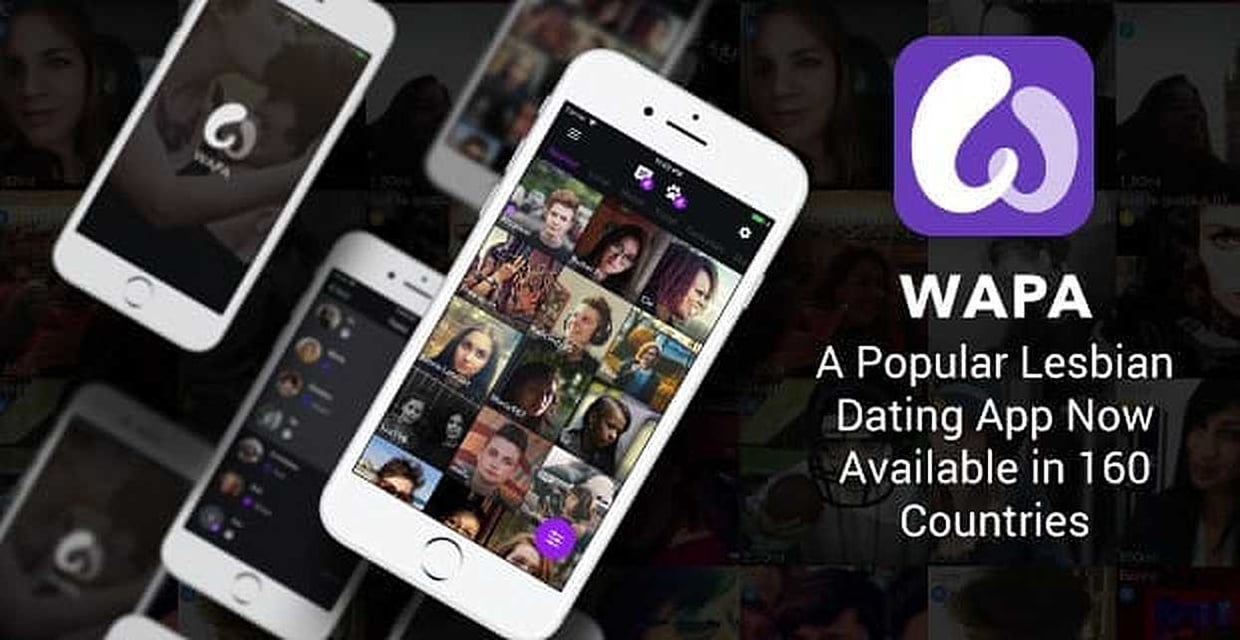 Source: datingadvice.com
Wapa is exclusively for lesbian and bisexual lovebirds to engage with one another and form meaningful relationships. 
The common issue lesbian women face is when men pretend to be women by using fake identities. Thank God for the user-generated monitoring system where users are able to report suspicious accounts and Wapa administrators will get into action and take necessary measures. 
On top of that, all images and profiles will be closely moderated by the team at Wapa so you'll be able to hit it off with real, authentic women instead of fake ones. 
A feature that makes Wapa stand out among other lesbian dating apps would be the option to go for video messaging instead of the usual text form. 
All the lovely ladies on Wapa could send each other a video for up to 60 seconds, helping to create even more authenticity while also offering a better way of getting to know the person before a real-life meet-up sesh.  
Opt for the paid membership and you could send over longer videos and win a lady's heart! 
Download on iOS | Download on Android 


7) OkCupid
Source: theblog.okcupid.com
Similar to most dating apps in the market, OkCupid started off focusing only on straight couples. Slowly over the years, it slowly turned to be a safe haven for most lesbian or bisexual lovers. 
How OkCupid managed to keep up with the times is by offering various options for gender identity and sexual orientation. 
You really can't compare OkCupid with other dating apps like Bumble or Tinder because users are given an option to answer up to 15 questions for better match-making opportunities. 
Hence, if you're looking for something more long-term, OkCupid could possibly open the gate for you to meet like-minded individuals. 
Additionally, OkCupid's strict moderation rules and regulations ensure women could meet potential soulmates without having to worry about fake profiles. 
The option to choose your pronouns on profiles also makes the perfect touch for being the best lesbian dating apps around. That's not all though, you could even control who views your profile too! 
Since it's an app for all sexual orientations, you could avoid unwanted attention from genders that don't spark your interest by preventing the type of profiles you'd like to see on your timeline or prevent them from checking out your profile too. 
Download on iOS | Download on Android 


Ready to meet new people, ladies?
Though this list helps you to figure out which dating app suits lesbian dating, keep in mind that it's all about trial and error. Perhaps you could even consider sugar dating too if you haven't already yet! Sugarbook is one of the best places to meet your potential sugar mummies who'll spoil you to no end. We know you're excited to meet all the lovely ladies in the world, but always remember that life is a rollercoaster, and you'll just have to try out everything in life to find a lifestyle you've always wanted.