Sugarbook is Asia's most critically-acclaimed online dating site that helps members establish honest and transparent relationships with affluent members across the world. With over 4,000,000 members, head on over to Sugarbook to arrange your next sugar date and find yourself a sugar partner safely with zero hassle!
Oh what a time to be dating in Singapore! Thanks to technology, meeting someone new has become easier than ever. 
Need to find a date to your sister's wedding so you don't have to handle the barrage of questions alone? Or maybe you're just looking for a quickie with a hottie after a long day's work. 
All you have to do is pick up your phone and start swiping!
Alas, five unsolicited dick pics, catfishes, and 'bobs and vagenes' later, you begin to question your entire existence. (unexpected dick pics can do that to you). 
Before you give up and store away your fancy underwear, we have just the listicle that will help you out of this rut!
It's not just about being picky about WHO you swipe when online dating, but you should also be picky with the dating sites that you're using. This will give you the power in finding what YOU want in your prospective relationships. To help you find the best dating apps in Singapore, we've listed some of our favourites that you would regret not trying out!


But first, what even is a dating app?
''We met online" used to be such a taboo phrase that most of us have had to come up with imaginary scenarios of what we wished really happened when we introduced our online sweetheart. 
Luckily, we've moved past that phase and (somewhat) normalised showing up with a new date to every social event. 
In essence, online dating apps are free mobile applications that you can use to meet and chat with people online. Most of them use your device's GPS location to match you with possible hotties in your vicinity. 
Dating apps take 'meet hot singles in your area' and speed dating to a whole new level. 
Your possible candidates appear one by one on your screen with their Age/Sex/Location, where you can judge them based on a gallery of their 'best' pictures, interesting characteristics, likes and dislikes, and of course, their witty/non-witty bios.


How do dating apps work in Singapore?
Dating sites or apps aren't anything new for Singaporeans. 
In fact, they fit right into our busy lifestyle as we love meeting new people but simply do not have time to wait for our mums to finally set us up with 'the one'. 
Aren't we just tired of one unstimulating date after another that seems to go nowhere?


Top 10 dating apps to try in Singapore
1. Sugarbook
What more could we say about the dating app that has been causing such a stir on the internet? Sugarbook is a platform that connects like-minded adults who consent and agree upon a beneficial relationship for both parties. 
Sounds sexy, doesn't it? It gets sexier.
Unlike other dating apps in Singapore, Sugarbook is where you can be upfront with your expectations so there won't be any awkward conversations later. Instead, you have two consensual adults just looking to have fun, with no hidden agendas. 
And of course, there's also the financial benefits and the prestigious lifestyle that's waiting to be uncovered. We don't know about you, but getting paid for going on dates sure sound like a great agreement!
Choose your role, pick your best photos, state your fantasies, your relationship, and your terms. All that's left is to be wined and dined at the finest eateries and be treated like the King/Queen you are.
Are you flirting with the idea of getting into the sugar life? Then take the flirting to the next level and visit Sugarbook today!


2. Tinder
Source: MobileMarketingReads.com
Probably everyone who's used a dating app in Singapore has tried Tinder. One of the pioneers of the swiping culture, Tinder is one of the most popular dating apps in Singapore and has pretty much set the tone of how dating apps work.
Like what you see? Swipe right and start chatting! Don't like what you see? Then swipe left and their profile will be tossed into oblivion.
With Tinder, it's mostly about looks because there's not much other information being offered. Some users liken it to the modern-day blind date as you usually don't know much about anything until you meet each other. 


3. Bumble
Source: Muzli
Doing it a little differently than Tinder, Bumble gives girls all the power. For ladies who know what they want and are tired of obnoxious, cliche pick up lines, Bumble lets you make the first move. 
Once you get a match or a BOOM!, you only have 24 hours to make your move before the match expires. Bumble aims to break the unspoken rule of not wanting to make the first move because let's face it, we're all guilty of this!
If you don't initiate the conversation, what's left is an unclickable, white-out profile of your 'could be' lover, forever reminding you the importance of seizing the moment.


4. Grindr
Source: TBI
Grindr is a dating app that creates a safe space for all our gay, bi, trans, and queer brothers/sisters. Sorry ladies, this is one party you'd have to miss because it's strictly an all-boys club only.
The app uses users' geo-social information to detect other Grindr fellas in your area who would want to meet up or just have a late night chat. 
Grindr is a good place to start if you are just coming out of the closet. Just be honest with your sexuality, because you will be among people looking for the same experiences.


5. Hinge
Source: Fortune.com
Hinge's motto 'The dating app designed to be deleted' suggests that it is the app where you might meet someone who's worth deleting the app for. 
If a serious relationship is what you're in search of, instead of mindless hookups (we're not judging either way), then you might want to give Hinge a go.
Mindless swiping is not a thing at Hinge since users are allowed only ten swipes per day. Their goal is that users will spend time to know their matches.


6. Coffee Meets Bagel
Source: The Bronx Journal
One of the more complex dating app names, Coffee Meets Bagel is also known as one of the more 'serious' dating apps in Singapore. And no, it has nothing to do with real coffee or bagels unless you decide on that as your first date. 
Coffee Meets Bagel makes its stand as the original anti-swiping app because what they're into is quality over quantity. Using your given information and their intuitive algorithm, you get to tailor your preferences. 
A notification at noon sets off with fresh hot bagels or in this case, fresh new suitors for you to swipe every day.


7. OKCupid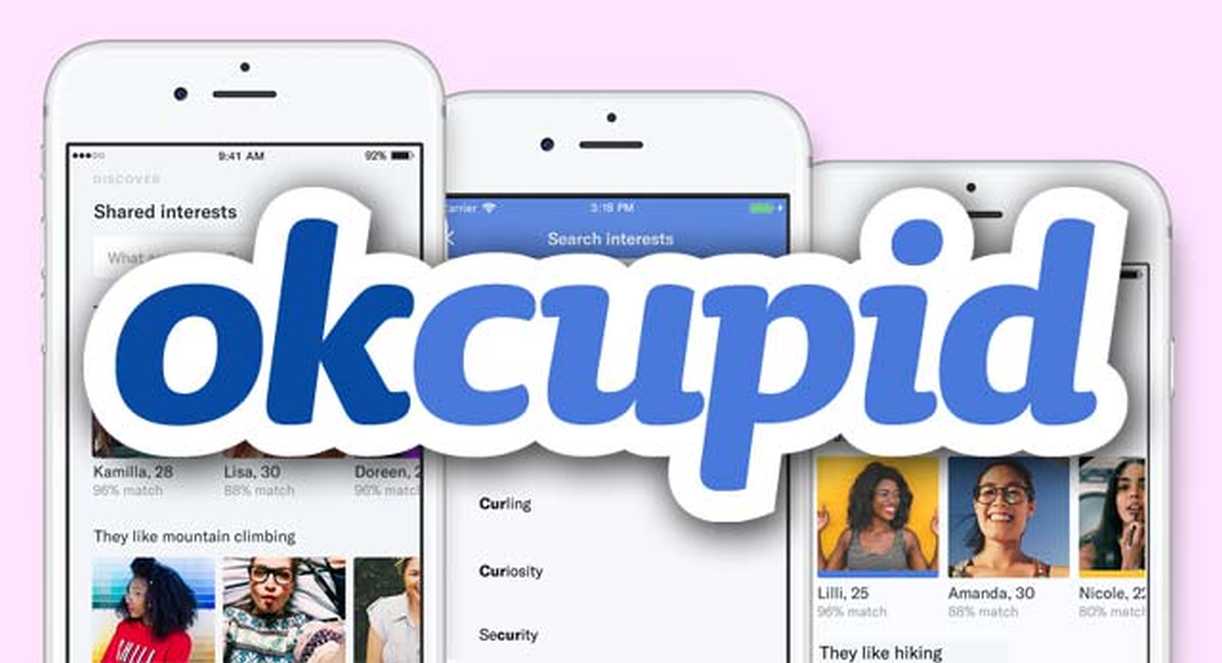 Source: Photofeeler.com
Think less God of desire and more digital algorithms. OKCupid has been dubbed 'The Google of Dating' because the platform utilises formulas and algorithms to curate your prospective partners. 
There are no babies flying around shooting love-arrows here, just plain data. But it works… presumably.The talent pool over at OKCupid is really a mishmash of everything. You can find all types of relationships, flings, toy-friends, boy toys, or maybe even the LOYL.


8. Paktor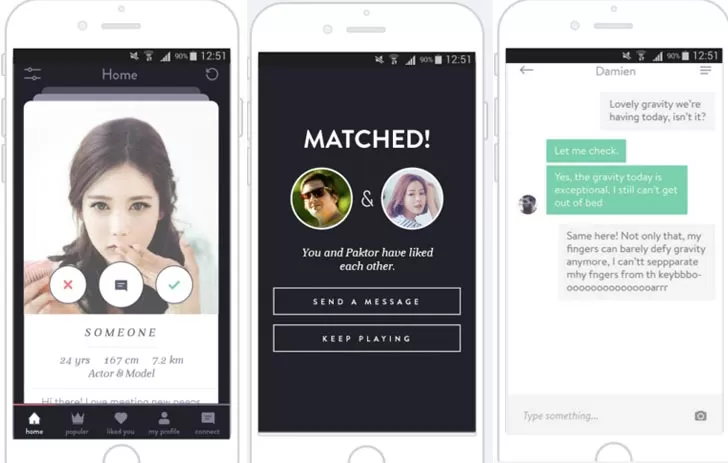 Source: The Best Singapore
Paktor is Hokkien for dating, which makes it the perfect name for a Singaporean version of Tinder. At least that's what the platform is always being referred to. 
A straightforward matchmaking service, Paktor has something a little more unique to stimulate your auditory senses. That is, you can record a 15-second long voice note as your bio. You can also randomly chat up a storm with anyone who's online.
9. Happn
Source: Le So Girly Blog
Disappointed that the guy/girl who was sitting behind you at the cafe didn't come over to say hi despite the number of times you walked past trying to get their attention? 
It's okay, sometimes it takes a lot to cook up the courage to talk to someone, especially if they make your heartbeat exceptionally fast for no reason at all. Fortunately, Happn is an app that is designed to give lovebirds in these types of situations a second chance. You might just find that Mr/Mrs cafe has just sent you a heart on the app! The only thing left to do is send a heart back and you can strike up a conversation.


10. Meetup
Source: Meetup.com
Meetup sounds just like any social networking site but it's more than that. It's the platform where people with similar interests of any kind can mingle and just hang out (if they want to). 
While most people use it for social networking, singles are free to join in the fun and maybe you could even meet the love of your life while discussing pottery with a group of other people!


Take charge of your dating life!
It's a jungle out there! Nay, a minefield! Finding love in the age of dating apps is filled with cryptic text messages, stranger danger, and ghosting. Nonetheless, it doesn't have to be this way. 
The key to having fun with dating apps is to know exactly what you're looking for, and use our guide above to find the dating app(s) to help you find exactly that. 
Go on, be honest with what you're looking for. Because you never know, someone else might be looking for the exact same thing 😉