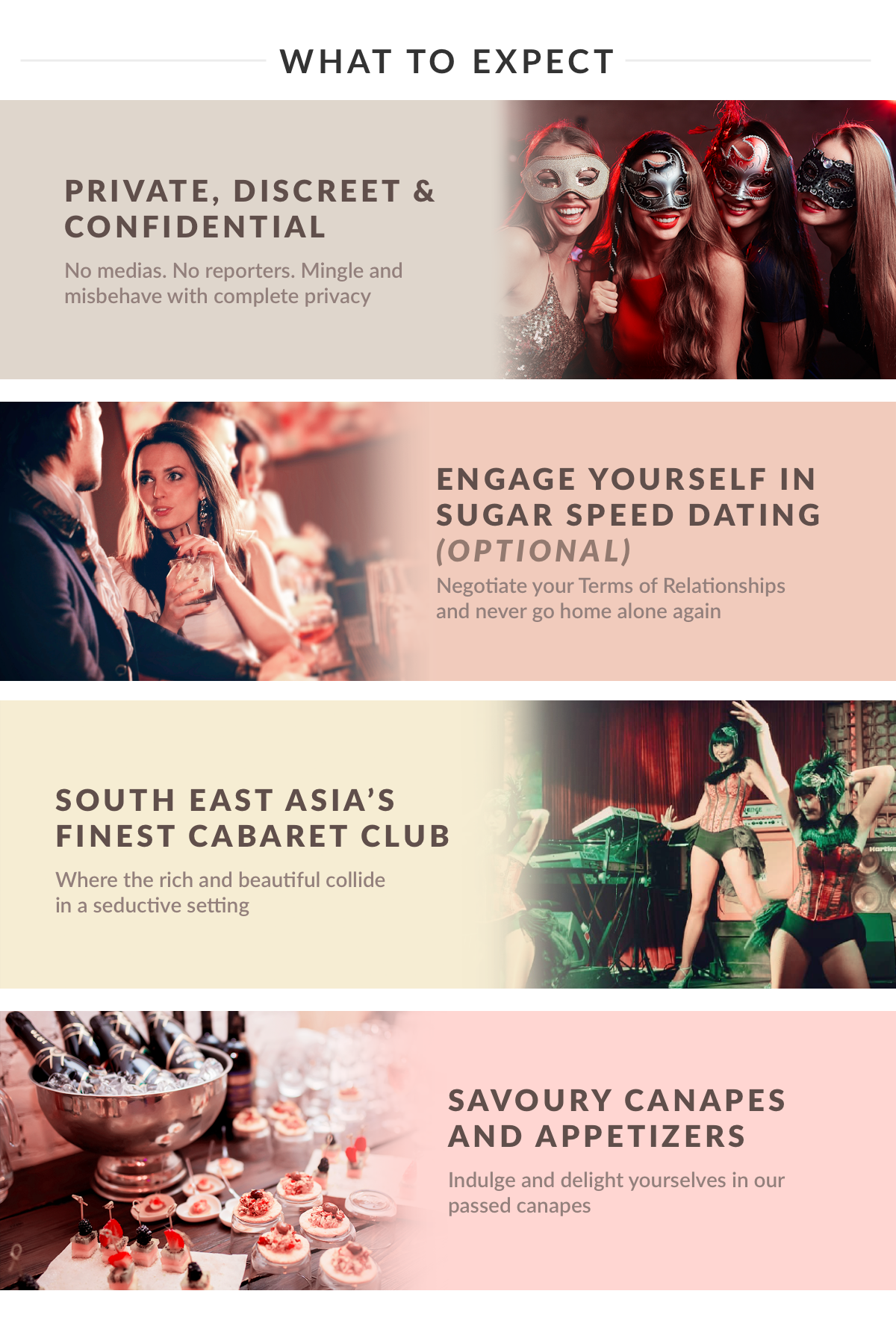 At Sugarbook, members Chat, Negotiate and Meet to further discuss terms of relationships.
But when chatting online falls short, that's when the magic of a real-life Sugarbook party begins!
Here's a little taste of what to expect for Sugarbook's Masquerade Party at Suzie Wong, on 31st May 2019.
Games of Sugar
A luxury affair with mystery, as members are encouraged to wear masks for the masquerade theme, it is a night of discretion without fear of being publicised. Members can mingle freely with fellow members, discuss terms when you meet and chat.
As the night is set with canapés, drinks, dance performances, beer pong and speed dating. You can expect it's a fun-filled night for sugar members to participate for a quick round of meet and greet with fellow sugars.
On the night of Sugarbook's party, the odds are in members' favour with the ratio of 2 Sugar Babies to 1 Sugar Daddy.
The Venue
When it's Sugarbook's event, it is all about the glamour. Likewise, Robert Lomax bar has three red-velvet seated performance swing next to the leathered chesterfield couches and encompassed with exposed brick walls, it is a surrounding of an abundance of sophistication.
On the night of 31st May, the venue is completely closed for only Sugarbook members to party the night away.
The Feel
Robert Lomax, the hidden bar that is named after Suzie Wong's fictional lover, the bar exudes a masculine feel fitted for Sugar Daddies. With Sugarbook carefully chosen this bar specifically for a tailored made party only for our members, you can expect a night of sensuality.
If you can't wait until the party to get a taste of it, check out Sugarbook's F1 After Party here and have a view here. Remember, anything is possible at Sugarbook's parties!
So, sugars members ― are you ready for a tantalising night of the year? See you at the party!