Here's the question on every new Sugar Daddy's mind: "What are Sugar Babies looking for?"
I wish there was one answer, but everyone is different. We've done you a favor and asked our Sugar Babies on your behalf. We sent out a survey via email asking our Sugar Babies, and the response has been phenomenal!
Over 2,000 Sugar Babies took the time to let us know what they are looking for from a Sugar Daddy, and we want to share the results with you.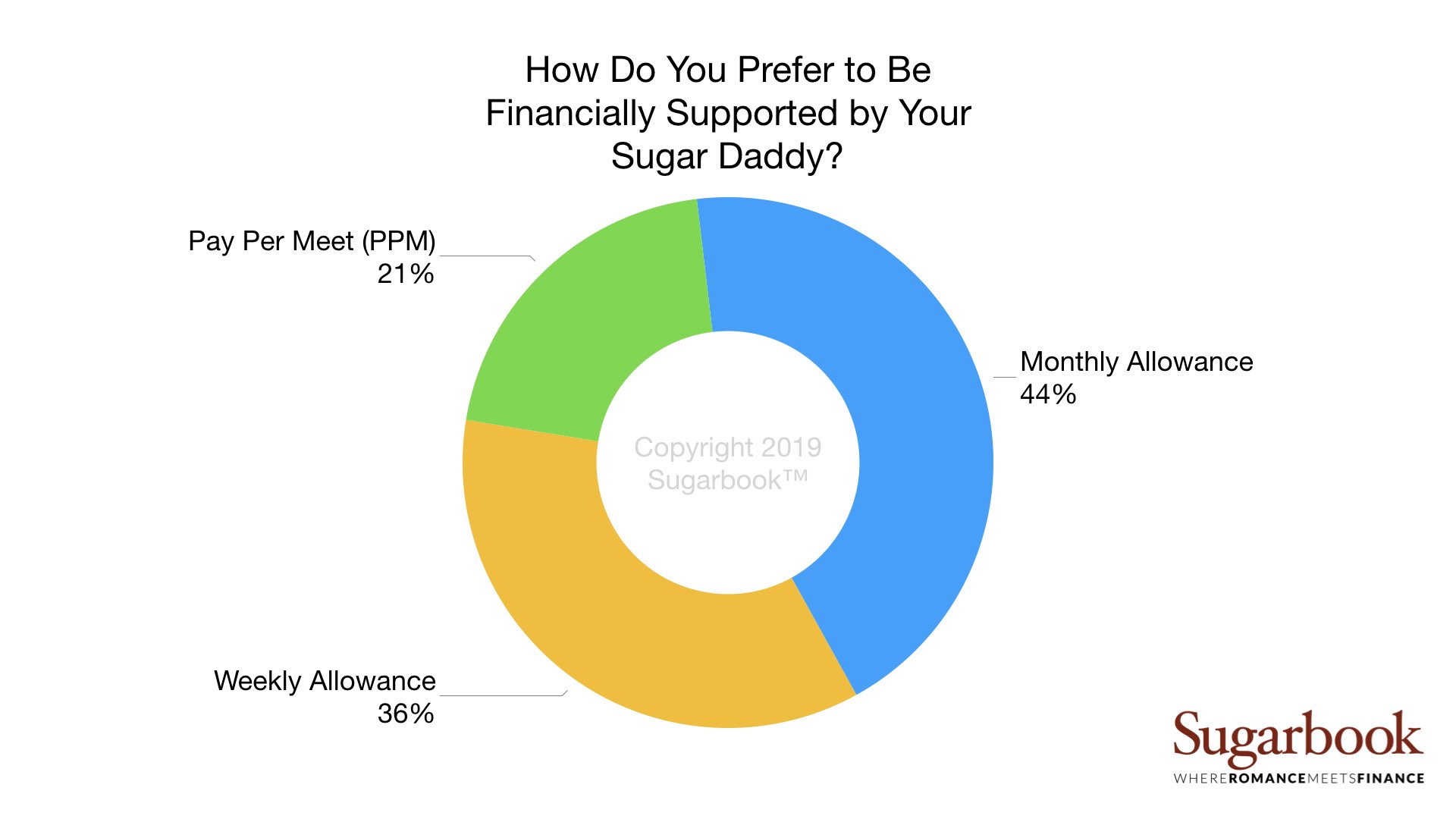 First, we asked Sugar Babies how they prefer to be supported financially. About 44% said that they prefer a monthly allowance to support their lifestyles and help them pay their bills. 36% said they prefer a weekly allowance, while 21% said they prefer a Pay Per Meet (PPM) arrangement.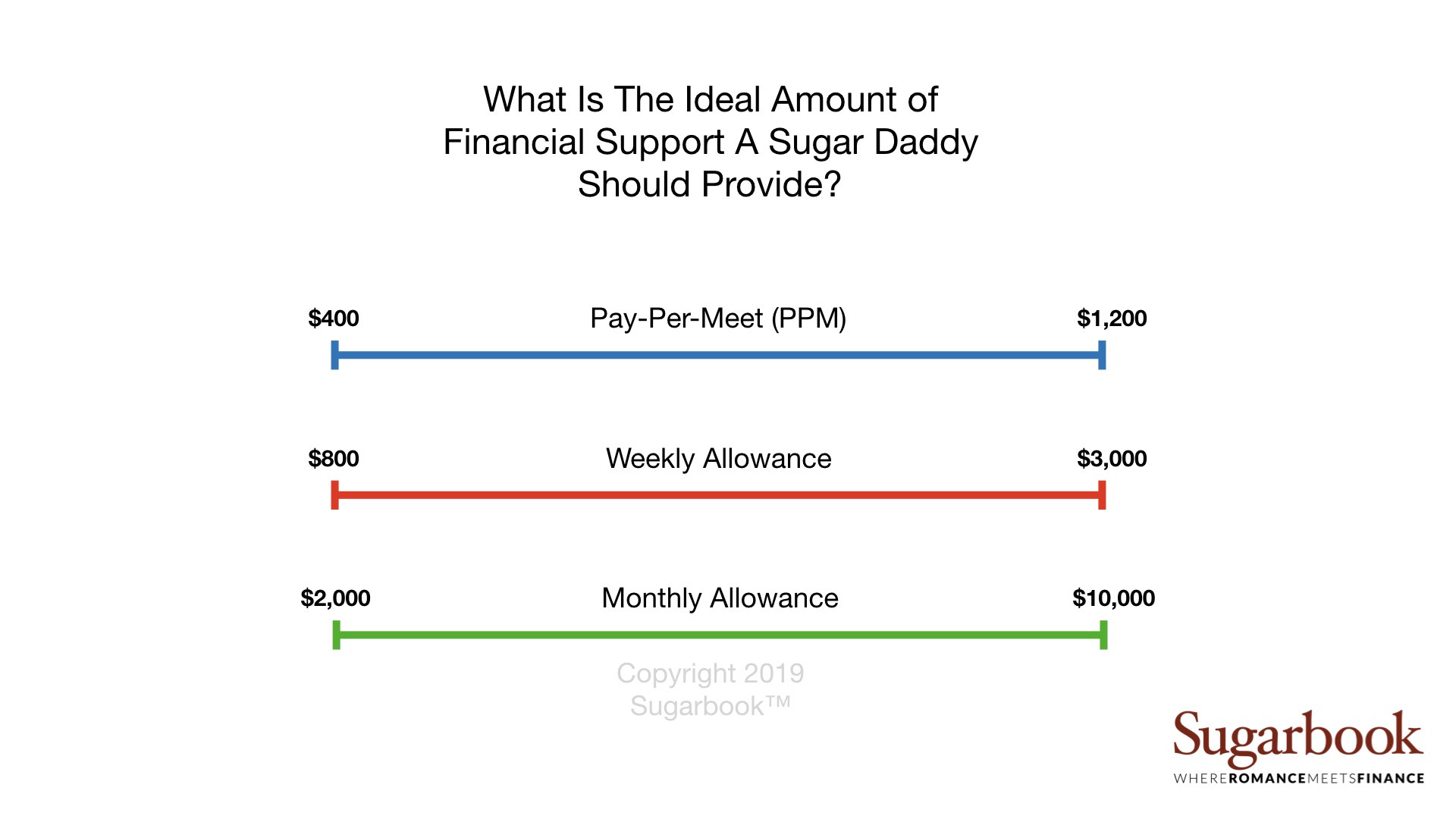 Next, we asked them the ideal amount they hope to get from their Sugar Daddies.
For those who chose Pay Per Meet (PPM), the ideal amount ranged from $400 to $1,200 per meet depending on the duration and planned activities. Those who chose weekly allowance stated that they hoped to get between $800 and $3,000 per week. The Sugar Babies who chose monthly allowance hoped to get between $2,000 and $10,000 per month.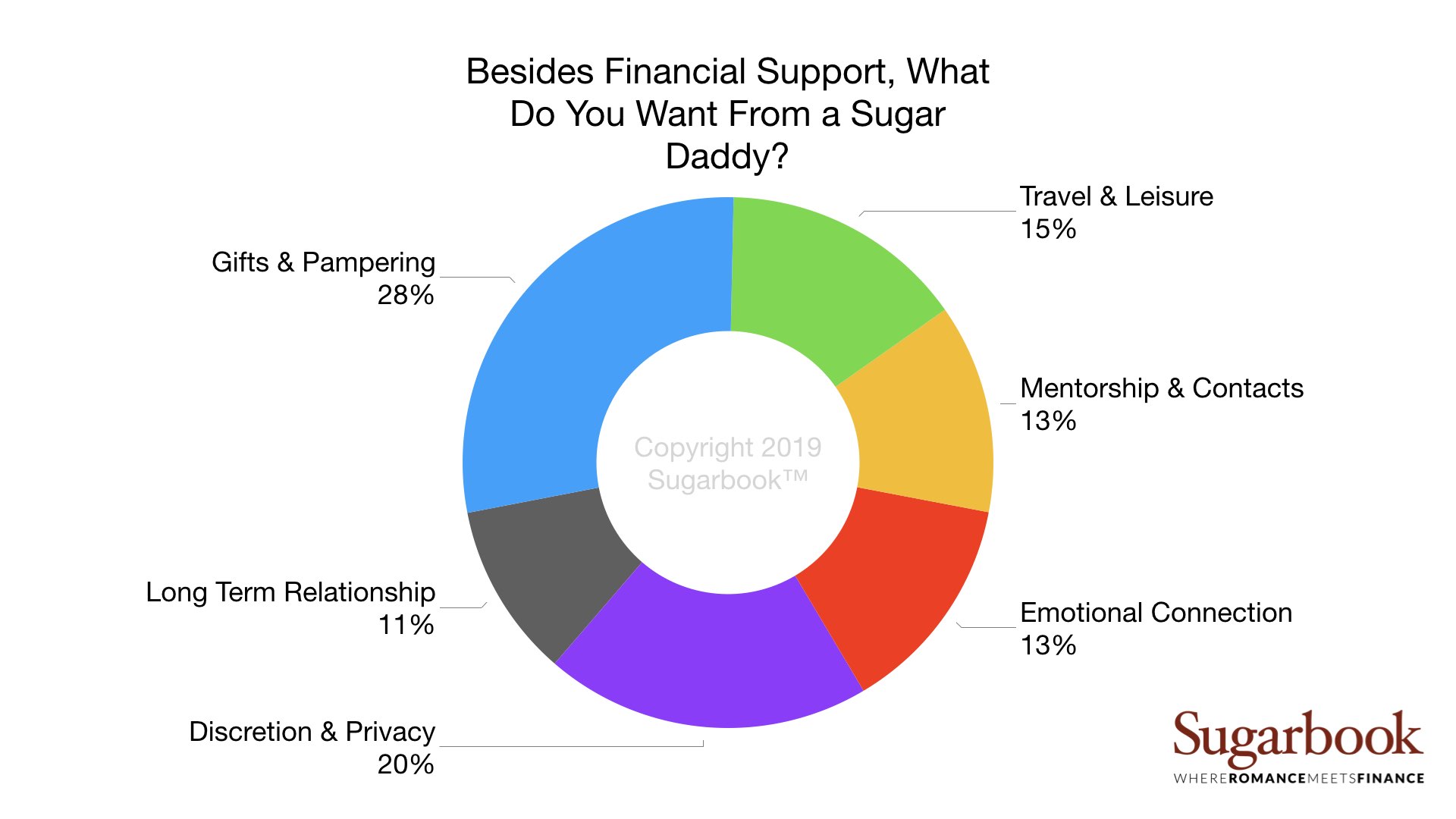 Financial support is the #1 thing on every Sugar Baby's mind, for sure. But what else? Our survey revealed that most Sugar Babies on Sugarbook also want Discretion & Privacy, Gifts & Pampering, and Travel & Leisure from their Sugar Daddies.
Only 11% said they also want a long-term relationship from their Sugar Daddies, while mentorship and emotional connection also proved to be important.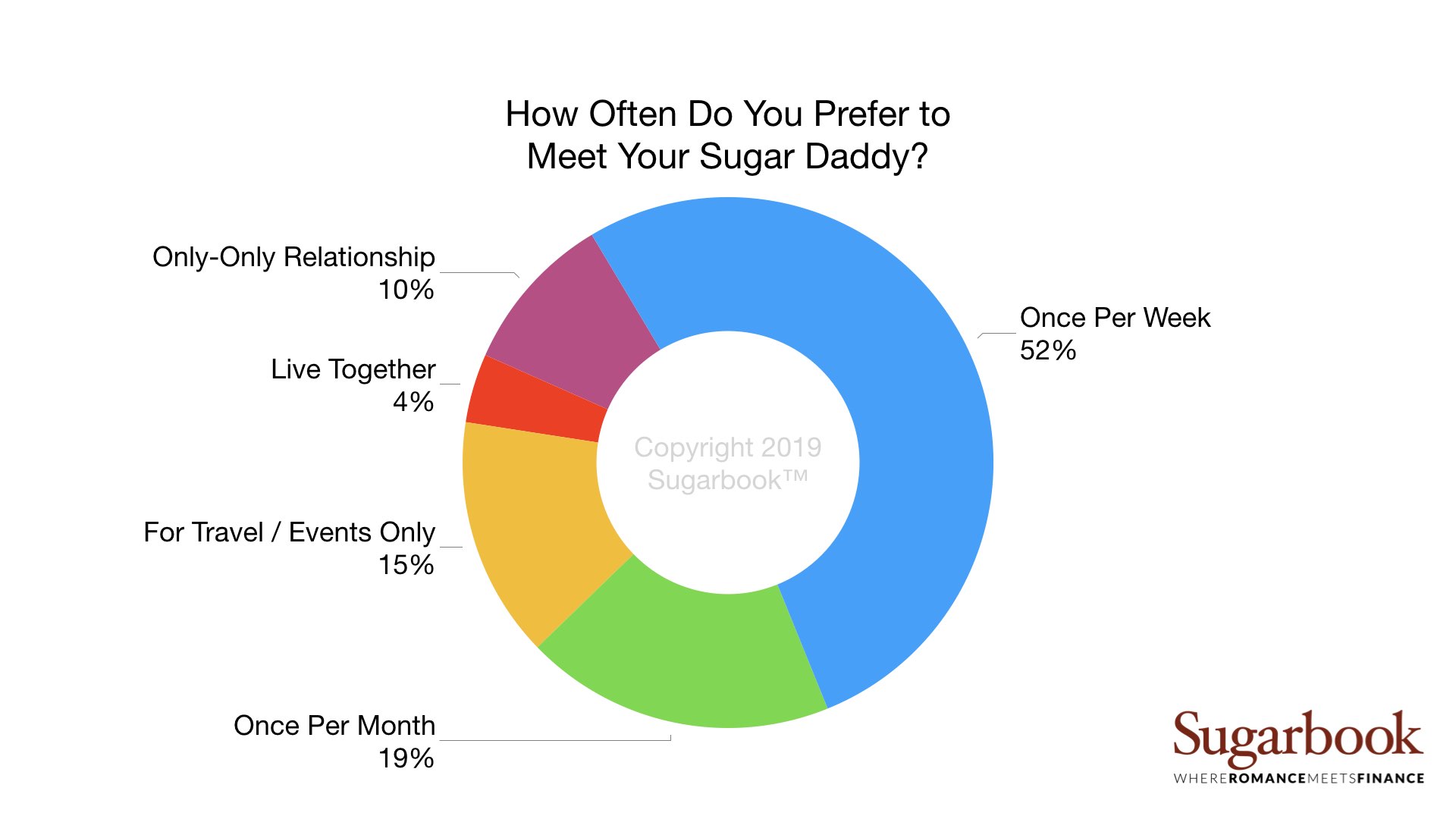 Sugar Babies are a busy bunch, chasing their dreams with passion and enthusiasm. So how much are they willing to set aside to meet their Sugar Daddies?
According to our survey, about half of them would like to meet their Daddies once a week.
Only 4% said they want to live with their Daddies, while 10% told us that they want an online-only relationship with chat and video communication.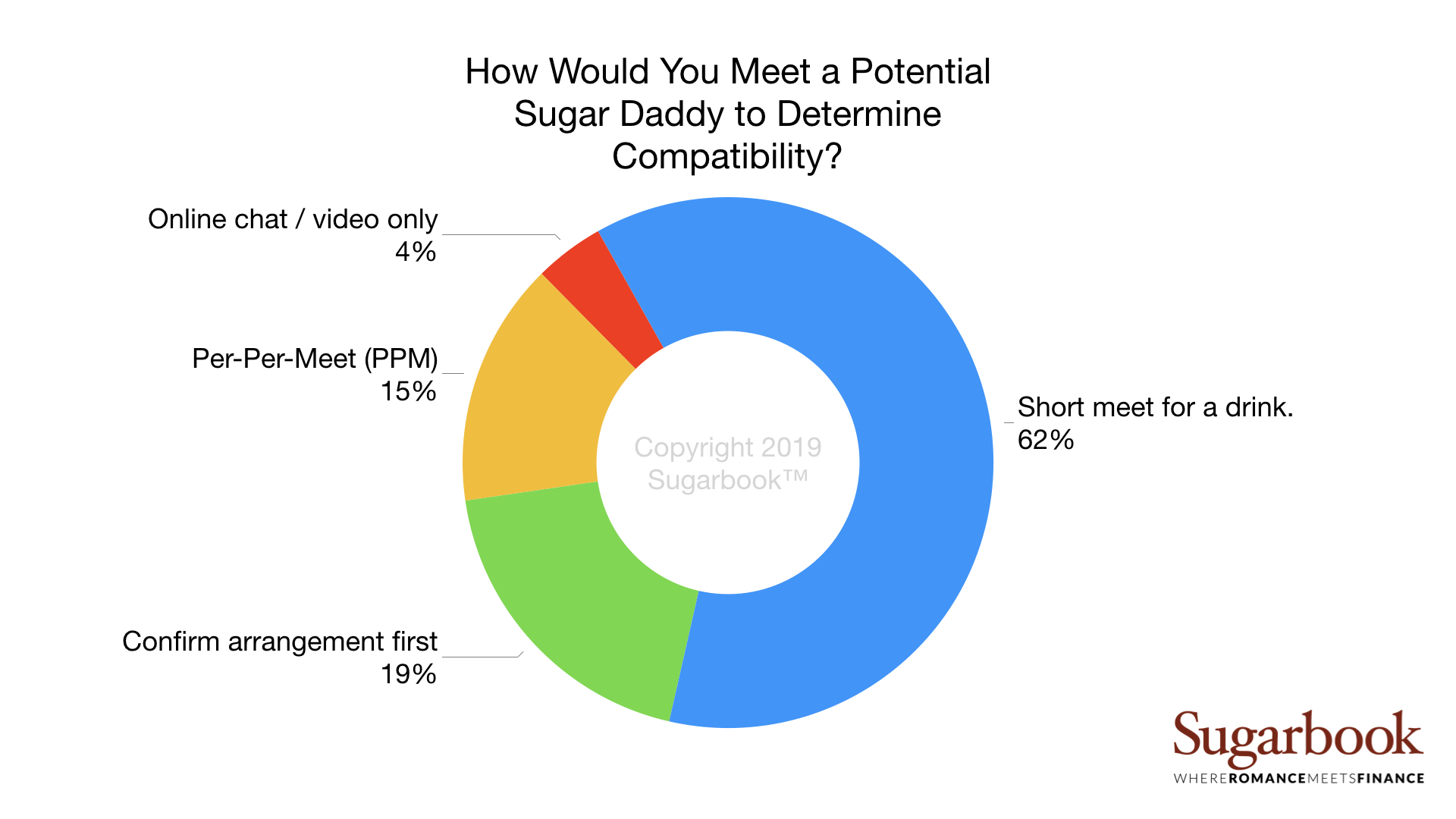 In Sugarbook, Babies and Daddies come to an arrangement that is mutually beneficial to their needs. We wanted to know, how do they determine if they are compatible with each other before sealing the deal?
62% of our Sugar Babies told us that they would love to meet their potential Sugar Daddies over a quick cup of coffee and check for chemistry.
Some preferred to get paid (PPM) even for the first date or meeting.
About 19% said they will only meet up once an arrangement has been confirmed and that chemistry didn't matter as much. About 4% said they only needed to do a video call or chat to determine if they are compatible with a potential Sugar Daddy.
So what do you think about these answers from our Sugar Babies? Have you found your ideal Sugar Baby yet on Sugarbook?
As a Sugar Daddy, one way to impress Sugar Babies is to be a Premium Member. Benefits of a Premium Membership include: 
No More Waiting –

Skip the queue for all approvals, and start chatting with others even while your profile is being approved. 

Unlimited Everything –

Chat freely and keep conversations going for as long as you want. Get an unfair advantage over free members and increase your chances of matching with your ideal Sugar Baby. 

More Privacy Options –

Hide your Online status even while you're actively using Sugarbook. Plus, you get "Read Receipts" when someone reads your messages. 

Higher Prestige –

Convince your potential Sugar Baby how serious you are with a Premium badge next to your picture. Plus, you also get viewed by our Premium Sugar Babies, the cream of the crop in Sugarbook. 

Get Featured –

Increase your chances of getting Featured on Sugarbook, which can instantly turn you into the object of every Sugar Baby's desire. 
If you're not a Premium Member yet, you're missing out! Login to Sugarbook now to upgrade. If you're on Android, don't forget to download the Android app from the play store. 
If you're not a part of Sugarbook yet, what are you waiting for? Create a free account now and start creating your profile. Your ideal relationship is only a message away.